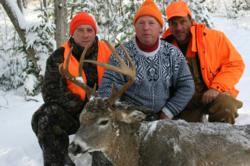 We expect 2013 to be a very strong buck season thanks to a 3 year trend of recovering deer numbers and the 19% increase in buck harvests reported for 2012. -Jim Yearwood, Northern Outdoors
The Forks, Maine (PRWEB) April 02, 2013
In its time-honored tradition of four decades of Trophy Whitetail Deer Hunting, Northern Outdoors has become Maine's #1 hunting outfitter & lodge and one of the top ten trophy whitetail deer hunting outfitters in all of North America. Northern Outdoors is pleased to showcase an expanded commitment to hunting and fishing through its newly launched, mobile-friendly website at Mainedeerhunting.com. In addition to Trophy Buck Hunting, Northern Outdoors is also excited to introduce custom bird & small game hunts and moose hunting in 2013. The new website features information on all Maine's hunting seasons: Whitetail Deer, Moose, Bird and Small Game, as well as information on Bass, Trout, & Landlocked Salmon fishing seasons. All-inclusive professional Guided Deer Hunting packages start at $1050 for a week, $600 for 3 day Deer Hunts. Upland Bird Hunts start at $400 for a full day for 1-2 hunters.
"Northern Outdoors has a tradition of serving serious trophy whitetail deer hunters for almost 40 years. Our Maine Master Guides, full-service hunting lodge, and tremendous location in western Maine, home to Maine's famous trophy bucks, cause hunters to return year after year to hunt with us." - says Russell Walters, President, Northern Outdoors
The three-year trend of recovering deer numbers in Maine and significant increases in 2012 total harvest numbers (12% over 2011), and especially buck harvest numbers, indicate a strong 2013 hunting season. This is great news for Maine's hunting community. Northern Outdoors closely follows the herd and harvest reports from the MDIWF (State of Maine Dept of Inland Fisheries and Wildlife). Northern Outdoors' new hunting and fishing website is a reflection of their confidence in an excellent 2013 hunting season in The Forks, Maine. Read the full MDIWF report here.
"We expect 2013 to be a very strong buck season thanks to a 3-year trend of recovering deer numbers and a 19% increase in buck harvests reported for 2012." - says Jim Yearwood, Vice President, Northern Outdoors.
Northern Outdoors has also expanded its offerings for both serious and novice anglers by partnering with local guide service Kennebec River Anglers to offer first class bass fishing and fly fishing trips. These trips include Professional Registered Maine Guides, all gear, transportation, and more. They start at $179pp for half day trips and $350-$400 for full day trips. Anglers choose between fishing for Maine's famous fighter - the smallmouth bass, or spectacular fly fishing for trout and landlocked salmon in western Maine's rugged Kennebec and Dead Rivers.
##
Established in 1976, Northern Outdoors is Maine's #1 Hunting Outfitter & Lodge, with a tradition of Trophy Whitetail Deer Hunting spanning almost 40 years. Northern Outdoors also offers moose, bird and small game hunting in the fall season, and smallmouth bass fishing and fly fishing for trout and landlocked salmon in the spring, summer, and fall. Northern Outdoors is a four-season adventure resort and winner of Yankee Magazine's 2011 Best New England Adventures Award. In addition to hunting and fishing, Northern Outdoors offers whitewater rafting, hiking, and ATV rentals in the summer and snowmobiling in the winter. The resort includes private cabins, riverside camping, and the Kennebec River Brewery, featured on the Maine Beer Trail. Northern Outdoors is located 2.5 hours from Portland Maine, 2.5 hours from Quebec City, Canada, and 4 hours from Boston, on Route 201, The Old Canada Road National Scenic Byway. http://www.NorthernOutdoors.com http://mainedeerhunting.com