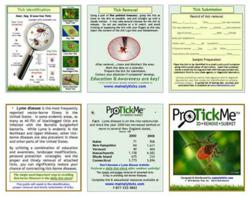 The longer a deer tick is attached, the greater the chances of contracting Lyme disease and other tick-borne infections.
Windham, Maine (PRWEB) February 14, 2013
Mainely Ticks, a leading New England provider of deer tick safety resources, knowledge, and safety kits, has launched a free educational brochure with information on tick identification, removal, and submission. This guide is now available to audiences all over the United States that are impacted by the dangers and increasing numbers of deer ticks each season. To download the free guide, visit the Mainely Ticks website http://www.mainelyticks.com
With the summer months quickly approaching, the owners of Mainely Ticks wanted to be sure this new and valuable resource was available to everyone who needs the information and knowledge on how to lessen the chances of interfacing with ticks this tick season, as well as how to handle them if they are found.
Mainely Tick's new tick educational guide and website explain and provide resources for the steps needed in protecting your family from ticks this 2013 season. These include:
1. Tick avoidance – Deer ticks require a damp, humid environment to survive and are most often found in wooded areas and forest edges, especially in leaf litter and low ground cover. Deer ticks may be active anytime the temperatures are above freezing. Watch for ticks on mild winter days where there is little snow cover and especially during the spring, summer and fall months.
2. Protective clothing - Ticks are very small and difficult to spot, especially the nymph tick. Wearing light colored clothing whenever working or playing in tick endemic areas makes spotting ticks easier.
3. Tick repellents - Increase your level of protection by applying a DEET based product to exposed skin and pre-treating your clothes with 0.5% permethrin spray. A single application of permethrin to your clothing can provide up to six weeks of protection, even after repeated washings.
4. Daily tick checks - "One minute a day after work and play." The single most important step in reducing your chances of contracting tick-borne illnesses is the daily tick check. Be sure to check yourself, children and pets after spending time outdoors. Use the sensitivity of the fingertips to feel for ticks, especially in the scalp and body creases. "The longer a deer tick is attached, the greater the chances of contracting Lyme disease and other tick-borne infections," notes Bob Maurais, owner of Mainely Ticks.
5. Proper removal of attached ticks - Experts agree that the prompt and proper removal of attached ticks lessens the chances of acquiring Lyme disease or other tick-borne illnesses. Using fine pointed tweezers, grasp the attached tick as close to the skin as possible and pull straight up with a steady motion. Avoid twisting or squeezing the tick with your fingers as this may inject the contents of the tick's gut into your bloodstream.
The new brochure is available for download on the website along with other helpful tools and tick related information. Mainely Ticks also provides ProTickMe tick identification, removal, and submission kits and fine pointed tweezers- great resources for customers finding themselves in high tick concentration areas. Dealer inquiries are welcome throughout the United States.
About Mainely Ticks:
Mainely Ticks is a family owned and operated pest control business located in Southern Maine. Since 2004, they have distributed over 55,000 tick identification guides and education brochures to residents of Southern Maine and surrounding areas. Visit http://www.mainelyticks.com for more information.