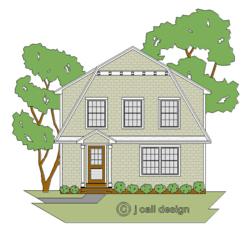 Our affordable home packages come with no construction loans and 100% financing!
Falmouth, ME (PRWEB) April 26, 2012
Estes Home Builders are reporting ideal economic conditions this spring/summer to build a Maine home. This news comes at an opportune time for potential Maine homeowners, as the weather in spring and summer months are ideal for building new construction.
"We know times are tough and people can't afford to settle for an older home that will constantly need work. That is why we are excited to offer a new standard in the construction industry for quality and price," says Nick Estes, Founder of Estes Custom Builders. "Our affordable home packages come with no construction loans and 100% financing!"
Nick is heartened by the good news contained in the RE/MAX of New England March Monthly Housing Report. This report prompted a recent quote from Jay Hummer, Executive Vice President, RE/MAX of New England, where Jay pointed out the overall stabilization in Maine's median home prices compared to that of New England in general.
In a recent blog post about new home construction in Maine by Estes Custom Builders, Nick offers eager potential Maine homeowners a detailed look at the rural development grant process. The download is free and helps potential owners interpret the data offered by the State along with links to the data itself. This report's goal is to help potential owners understand how to take advantage of the 100% financing.
With over 90% of Maine still forested, there is an excellent chance that most people looking to build will find an area that is classified as "rural" to qualify for the first part of the 100% financing that is close to, if not exactly where, their ideal build location is.
Other great tips in the report by Estes help future owners understand what it takes to qualify financially as well. Many people may be surprised to find how easy it is for them to qualify. The report provides links to charts that will help people determine qualification by average income, varying by regions and locations outlined by chart.
Maine continues to tip the scales with over 60% of its residents retaining homeowner status and it looks like that number will hold strong or increase over the next year. "Our proven streamlined system makes the construction process amazingly simple too. You can go from dreaming about your new home to living in it in as little as eight weeks," says Nick. "Take a look at the report and let us know how we can help."