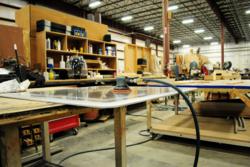 We look forward to working with Efficiency Maine to make the Maine economy more viable and sustainable.
Albany, NY (PRWEB) September 22, 2011
SmartWatt Energy announced today that they have been named a "Qualified Partner" by Efficiency Maine, for their Large Business Program. This unique program pre-qualifies turnkey energy efficiency contractors, and is geared toward increasing the energy efficiency of large commercial and industrial businesses in Maine through lighting, refrigeration, HVAC and variable frequency drive upgrades.
Eligible business program participants include: businesses; public & private schools (K-12); local, county and state government buildings; farms; airports; water and wastewater facilities; quasi-governmental and other regional systems. Total incentives (prescriptive and custom combined) may not exceed $100,000 in a calendar year.
"We look forward to working with Efficiency Maine to make the Maine economy more viable and sustainable," explained Matt Cinquanti, Vice President of Utility Programs for SmartWatt Energy. "Working with large businesses in the area in partnership with Efficiency Maine is a great complement to the work we're already doing with businesses nationwide."
SmartWatt Energy anticipates completing multiple energy savings projects in this Program by the end of 2012, and anticipates opening a local office to meet demand. SmartWatt Energy currently has offices in Albany, NY, Syracuse, NY and Rochester, NY to serve their Maine customers.
ABOUT SMARTWATT ENERGY, INC.
SmartWatt Energy, Inc., is a leading nationwide provider of turnkey energy-efficiency solutions. SmartWatt Energy is dedicated to lowering businesses' operational costs through demand-side energy-reduction strategies. SmartWatt Energy provides whole building energy assessments and implements lighting, variable-frequency drive, control system, refrigeration, HVAC and other mechanical upgrades to help commercial, industrial, government and utility customers meet their sustainability goals. SmartWatt Energy's energy-efficiency services include construction-grade energy audits, value-engineered designs, self-performed installations, utility incentive procurement, facilitation of EPAct 2005 tax deductions and maintenance support.
# # #