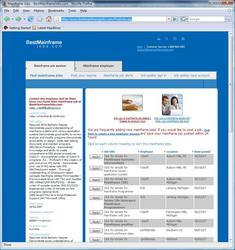 BestMainframeJobs.com is dedicated to mainframe professionals around the world
Pennsylvania, Pa. (PRWEB) September 25, 2007
BestMainframeJobs.com today officially announced the launch of the BestMainframeJobs.com website, dedicated to matching the best mainframe jobs with the most qualified mainframe professionals worldwide.
"BestMainframeJobs.com is dedicated to mainframe professionals around the world," stated Kate Smith, Director of Marketing. Smith also added, "We have had an impressive early response with positive feedback from both job seekers and employers. Although we are pleased with the website's successful launch, we will continually add new features in order to increase the site's functionality and ease of use."
Potential job applicants can search, sort and filter mainframe jobs in an interactive data-grid and view each job's details without refreshing the webpage. This feature can be viewed by searching our mainframe jobs. Opportunities can also be searched and sorted by title, employer, location and date posted. The ability to submit job applications online is available and alerts that automatically email job listings based on search criteria will be added shortly.
Employers can search for keywords in job seekers resumes, view applicants for their postings, update posted jobs, and perform many other functions designed to ease the hiring process. Domestic and International job posting is available.
The BestMainframeJobs.com website uses AJAX (Asynchronous JavaScript and XML), to maximize the functionality and usability of the website.
Employers are invited to post their first job at a 50% discount, now through October 31, 2007 by mentioning code JOBS07 when creating an employer account.
For additional information, please visit http://www.bestmainframejobs.com or contact Kate Smith.
# # #