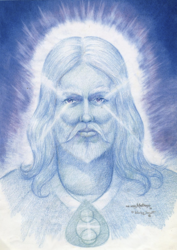 If you can touch one soul, your life has been worth living.
(PRWEB) August 14, 2012
Maitreya, also known as Buddha Maitreya or Mi Le Fo, shares his messages about the philosophy of metaphysics on his new Facebook Page. Metaphysics brings Eastern and Western beliefs together through teachings of love, compassion, wisdom and self-mastery. Maitreya's messages give tips and pointers about learning to become the master of your own life. Learn more about Maitreya's teachings here.
Maitreya is often called the world teacher, and he brings his messages to the world in a variety of methods. The Maitreya Metaphysical World Teacher Facebook page is possible because Maitreya is able to bring his energy through one of his channels, Margaret McElroy. Margaret McElroy has been working with the energy of Maitreya since 1992 and has channeled Maitreya at various events around the world.
What better way for a world teacher to reach the world then through the modern technology of Facebook. Here are two of Maitreya's most popular Facebook postings:
"We hear your prayers and do our best to make them happen; you though, need to tell us what you need exactly! My channel many earth years ago needed a bicycle; she did not drive, but thought a bicycle would enable her to go around her town more. So she put out for a bicycle, she just asked for that, nothing else. Shortly after her request we impressed on her teacher to give Margaret a bicycle she had stored in her shed and no longer needed; her teacher did this, but Margaret was very upset because it was an old bicycle, although she cleaned it, it looked old and very worn. Many years later when I came into her life and taught her how to manifest (make the things she wanted happen) she asked me why she was given an old decrepit bicycle instead of a new one. I told her, she did not ask for a new one! You have to be precise when requesting assistance. Of course if you need something, and you have not learned the lessons you may have in this area, you will not manifest at all no matter how hard you try, but do be explicit with your request and make sure we know exactly what you need."
"If everyone on the earth plane could understand the subject of metaphysics there would be less anger, hatred, fear and doubt, but of course this is not so, and for a long period of earth time cannot be achieved, but one day that will be the case! The earth plane has had so much proof that our world exists, yet many of you still disbelieve. As earth time passes more and more of you will begin to see, perhaps hear, and feel, those from our world who are not only working with you to assist you, but who have often been with you for a long period, even from birth. We do exist and we do intend to work in teaching you how to change your life for the better."
More messages from Maitreya can be found on his Facebook page, Maitreya Metaphysical World Teacher, or in Maitreya's collection of blogs and teachings.