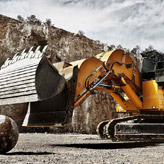 13th edition of NHES could be lucky for jobseekers and employers.
Toronto, Ontario (PRWEB) April 16, 2013
'Recruiting Here' feature set for debut at upcoming National Heavy Equipment Show.
With the National Heavy Equipment Show (NHES) about to get underway at Mississauga's International Centre this Thursday, anticipation is building for the premier edition of 'Recruiting Here.' Maizis & Miller, a niche recruiter of heavy equipment mechanics, shop managers and related professionals, will anchor the feature as official sponsor.
This brand new section will make it easy for jobseekers to connect directly with potential employers: visitors are encouraged to bring resumes, while companies can show their interest in hiring new talent by indicating so with a sign. The event attracts members from industries like construction, heavy equipment manufacturing and road building, and organizers are calling this year's gathering of exhibitors the largest in the NHES's history.
13th edition of NHES could be lucky for jobseekers and employers.
A veteran of the show, Maizis & Miller will be participating for a fifth time, but for the first time as a sponsor. The Company will be reaching out to potential employment candidates in person, hoping to build on an already extensive network of diesel machinery professionals and a multi-faceted approach to recruiting that includes a vigorous online strategy.
Representing Mechanics Hub, the Internet's most content-rich resource for mechanics, Hub personalities will be on-hand to interview exhibitors throughout the duration of the show. Video interviews will appear on various social media as well as Mechanics Hub, which is run by Maizis & Miller. The site serves as an online resource for mechanics and members of the heavy equipment community to solve tough mechanical challenges, discuss career advancement opportunities, find jobs and keep up to date with the latest happenings in their trade.
The show runs from Thursday, April 18 to Friday, April 19 at the International Centre in Mississauga, ON.
About Maizis & Miller
Maizis & Miller has been facilitating career advancement for diesel machinery professionals across North America since 1988. As a niche recruiter, the Company operates with a tight focus on heavy truck and heavy equipment jobs encompassing industries such as mining, construction, forestry, agriculture, and oil and gas. It connects talent with opportunity by pursuing a proactive approach to recruiting and by enlisting licensed Journeyman mechanics and certified HR professionals to serve as recruiters. Maizis & Miller operates http://www.MaizisandMiller.com and http://www.MechanicsHub.com, both of which are updated daily with engaging content and exclusively permanent, full-time jobs with benefits.