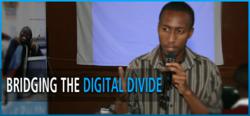 You have to discretely innovate for every one of those consumers on the economic curve, and if you don't do that, you'll fail.
Los Angeles (PRWEB) February 01, 2012
This digital media training program by Maji Mazuri can help companies do well and do good.
The world we live in demands innovative approach and a myriad ways of looking at things to come up with cutting edge solutions. Our complex, rapidly evolving world no longer fits neatly into a top-down grid. The digital era propels personnel towards more intellectually demanding tasks in an increasingly uncertain context of development. This has become more pronounced during recent years, with the influence of the information era and the global markets.
There's a growing belief that the billions of poor -- the so-called "bottom of the pyramid" -- can actually make up a viable economic market. In fact companies like Procter & Gamble ($79 billion in sales) and better known for middle and upper-middle-class brands than for low-end offerings, have been thinking up new ways to reach those consumers.
P&G CEO and chairman, Robert McDonald, said "You have to discretely innovate for every one of those consumers on the economic curve, and if you don't do that, you'll fail."
The company launched a skunkworks, populated mostly by technical folks rather than market researchers, to approach the $2-a-day consumer from a new perspective.
Without the obvious potential payoff from consumers with disposable income, companies may balk at the thought of investing in developing innovators within communities in the so called next billion. Yet forward thinking CEOs think long term.
According to Amazon Founder and CEO, Jeff Bezoz, "If everything you do needs to work on a three-year time horizon, then you're competing against a lot of people. But if you're willing to invest on a seven-year time horizon, you're now competing against a fraction of those people, because very few companies are willing to do that. Just by lengthening the time horizon, you can engage in endeavors that you could never otherwise pursue... We're willing to plant seeds, let them grow."
For giant companies to grow at the levels they have in the past, and hence satisfy investors, they must expand aggressively. They have to do things smarter, thinking both short and long-term. Developing markets are growing at 6% to 8% annually, compared with 1% to 2% in the developed world. The market for the poor remains largely untapped. Yet innovation strategies are likely to satisfy true needs best, if they come from within - which is why bridging the digital divide makes fiscal sense. Instead of sending teams to spend days even weeks visiting homes to come up with solutions tailored to consumers with less disposable income, building teams within those communities to come up with creative ideas that solve their own needs makes most sense. That's the way to ensure emerging markets are in the DNA of a company.
To be competitive in international markets, sophisticated methods and low-cost technology solutions are critical. These are better developed bottom-up. For example the high population growth in developing countries requires better food production as well as innovative use of information technology. This, again, requires a much better educated, tech-savvy farmer. A viable marketable solution can best be developed by someone who understands both needs and spending within specific cost limitations.
But even beyond these grandiose plans, is the simple will to keep marginalized youth in the digital know. Today, simple things like surfing the web, creating a resume on a word document are common place. In a few years, writing html will be a basic skill like reading and writing. For a child in Mathare, these are light years away... but they don't have to be.
With Kenya being touted as the silicon valley of mobile development, this is a phenomenal time to explore web and mobile platforms. The goal of Maji Mazuri Multi Media Youth project is to promote digital journalism as well as innovative ideas that develop tools and services to inform and transform community news, conversation, information distribution and visualization. Well organized programs like the Maji Mazuri Multi Media team can work together with larger corporations like HP, Cisco, IBM, Google, Apple, Amazon and Microsoft to develop new technologies (particularly mobile widgets for simple flip phones) that reach people in emerging markets.
The Maji Mazuri Youth Project can help these companies do good as well as do well. Not only is the project fantastic PR, the initiative could energize existing employees in the larger corporations who look outside to initiatives like Random Hacks of Kindness. Tapping into technology to connect geographically (World wide) distributed work groups employees/ volunteers can work with Maji Mazuri, and the Global Community - Netherlands, US, UK, Canada, China, Norway, Australia etc - to provide technology training like YUI and YQL as well as create an RSS feed say on Youth Education, Africa, connecting community of people who want to help, make a difference, live for something larger than themselves. Currently Youth receive training on assistance from Nairobits. With more resources, technology training can be expanded and integrated earlier in children's education.
In developing countries, with large segments of the population living at extreme levels of poverty, the first question that must be asked is whether it is reasonable to invest money in technology training, instead of using the same money to improve the living conditions of those in dire need. I believe that these interests are not contradictory. One way to reach a long-term solution for low socio-economic groups is to bridge the digital divide.
Technology training provides opportunity for education beyond the classroom. In truth in Mathare, learning at school is already stymied significantly by overpopulated classes, lack of appropriate infrastructure, substandard classrooms, lack of electricity, water, even lavatories.
In addition, these students face the same challenges as those in developed nations. The emphasis in frontal presentation, or typical classroom teaching, with students listening to what the teacher tells, is not conducive to real learning. Learning theorists agree that we learn by doing. Schools should devote much more of students' time to project activities related to real life and to the application of curriculum contents. Each student must build his or her own models of knowledge. Technology facilitates that.
The current education system penalizes marginalized youth for their lack of resources, and does not provide training that suffices to keep teachers' knowledge adequately updated. Teachers are trained to drill based on standardized national tests and a regimented syllabus. They teach topics based on material the students have no access to or knowledge of, while avoiding topics which students encounter in their daily lives, particularly if the teacher feels insecure and does not want to lose face in front of the students. Teachers colleges lack state-of-the-art educational technology, which could be a stepping-stone for positive changes in future teachers' behavior.
Access to technology training would catalyze that by opening up a whole new world of information. It is estimated that human knowledge (as measured by scientific publications) doubles every eight to ten years. Students may encounter interesting information on the digital highway that arouses their intellectual curiosity. Hence in addition, access to technology opens up new innovative ways of learning as well and perhaps creative solutions from students who might otherwise have never had a chance.
###