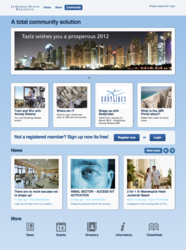 San Francisco, CA (PRWEB) February 01, 2012
Dubai: Jumeirah Beach Residence apartment owners and residents now have access to a new online portal, courtesy of Majitek Leap Plaza. With a new record for largest community launch, nearly 4000 apartment owners located in 60 countries were simultaneously granted access to their own personalized community services portal.
Jumeirah Beach Residences ("JBR") is one of the most recognized beach community locations in Dubai. Completed in 2007, JBR comprises 15,000 residents, in 6,900 apartments in 40 towers. It is the largest 'single phase' residential development in the world.
Stretching along JBR's 1.7 kilometer beachfront strip is The Walk, home for more than 330 retail outlets covering a wide range of services and venues, including restaurants, clothing stores, boutiques, department stores, cafes and gyms. The Walk is one of Dubai's major outdoor and tourist attractions, with activities such as street painting, recycled art displays, comedy shows, sand sculptures, photography displays, and booths selling fashion accessories and crafts.
Taziz LLC, the Property Manager responsible for JBR, used Leap Plaza to automatically generate online self service accounts for all apartment owners to enable them to pay service charges online and request maintenance to common areas. At the same time a free Community Portal was provided for all owners, residents and retailers in the precinct. Retailers were provided free directory listings and have the ability to promote special offers and events, and Owners & Tenants can order and pay for services online.
JBR residents have enthusiastically adopted the new Customer Self-Service portal, where from iPad, smart phone or Web browser, tenants can get their apartment cleaned, their air conditioner checked, or get a handyman for touch-ups or equipment installation, among a myriad of other value-added services.
Taziz are also using Majitek's new Leap Community module. Browse their portal and store at https://jbr.taziz.ae/community
About Majitek:
Majitek has deployed its software in upwards of 50,000 residential units and more than 100 high-rise towers. The company's solutions also deliver significant benefits in commercial real estate, healthcare in the Middle East and Asia. Majitek users have reported a very high uptake of value-added services from their tenants, and are enjoying the benefits of new revenue –generation as well as the ease of customer self-service billing.
Majitek was founded by Steve Outtrim and Rob Cumming, and other members of the original team from Sausage Software. The company received an investment from Cisco Systems and CNA Group in 2009. In 2011, Majitek deployed the first Leap Plaza Community in Dubai. Majitek's solutions are now available for a no-obligation free trial in the US and elsewhere, from http://www.majitek.com
About Taziz:
Founded in 2010 in Dubai, UAE, Taziz is a registered property management company and manages more than 50 million square feet of development with the expertise to formerly register Owners Associations, applying the Jointly Owned Property Law No. 27 in its operations as well as managing master communities and leasehold properties. Also registered with the Real Estate Regulatory Authority of Dubai (RERA), Taziz manages Master Communities, residential, commercial, mixed-use, and governmental developments.
Since its inception, Taziz has provided property management services to many of the most prestigious, multi-faceted and technically challenging property developments. From fund management, operation management and performance reporting to customer requests and complaint management. Taziz actively works with its clients to achieve the mutual objectives of a real estate investment.
About BizCloud® Network:
Bizcloud Network is a technology media company with a strong focus on delivering top industry news and producing reviews of Web, Mobile, Digital and Cloud Computing products and services. The site offers insights into rapidly-developing world of Social Media and its connection to modern business. Bizcloud Network sees the tremendous value of implementing innovative technologies to enhance business processes and its team of expert writers accordingly creates the content that speaks to its target audience of business and IT professionals and decision makers.
Bizcloud Network has a strong fan base and a growing number of followers on major Social Media Sites, including Twitter, Facebook, LinkedIn, and Google+. It was founded in 2007 as a Media Branch of BizCloud, a leading cloud computing and SaaS service provider. The company is based in San Francisco, California, and has offices in Europe and Asia.
###