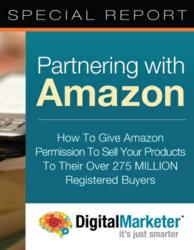 Learning how to make money with Amazon doesn't have to be difficult.
Austin, TX (PRWEB) January 22, 2013
Partner with Amazon using the latest improvements in the Special Report, said a recent Digital Marketer article. "Partnering with Amazon: How to Give Amazon Permission to Sell Your Products to their Over 275 Million Registered Buyers" is providing valuable information to marketers, writers, and entrepreneurs on publishing and offering their own work online.
The article said the report shares the tested strategies that prove the value of an Amazon business when it comes to selling content. Books, newsletters, essays, music, speeches, and a variety of other mediums sell best on Amazon, and the online piece said it is because of the devoted customer base and the trusted reputation the site has built.
"Partnering with Amazon" features Digital Marketer's expertise in making money using the online commerce center, and it shows how to get set up as a publisher in Amazon's unique marketplace. Formatting any text or content into Amazon-ready products will give anyone an optimized strategy for selling on Amazon, said the article.
Amazon is 4,000 times bigger than other similar sites, and it has established itself as a behemoth in the ecommerce world. When most people want to buy something, the article said Amazon has become the go-to place, favored over the mall, print catalogs, and even specialty shops. The company takes a considerably low commission, and provides an online venue, customer service, and other details that the article said are immeasurably important.
According to the DigitalMarketer.com article, "Partnering with Amazon" gives self-publishers exactly what they need to get set up with an Amazon account and gain access to the e-retailer's amazing tools and features. Amazon exposes content to an unheard-of 275 million paying customers, all of which can find, pay for, and start reading an e-book in a matter of seconds.
The beauty of self-publishing on Amazon is the aftereffects of creating content, which the article said can be seen almost immediately. Since Amazon is so gigantic, its items will always rank high in Google searches. Describing and tagging a self-published book with website information will develop free targeted traffic from Google. That way, the article said a personality or business can increase its Internet presence and overall recognition by using the free and easy techniques inside "Partnering with Amazon."
Building web traffic to a company's product or service sales page is a never ending battle, said the online piece. Amazon makes it easy to tag and categorize your material so that those who want to access it can find it easily.
Digital Marketer releases informational and educational materials to help businesses and entrepreneurs gain insight and information on the trends, data, and strategies that can take them to the top of their industry. Through their RAW Training courses, strategic plans, blogs, newsletters, site reviews, and Special Reports, Digital Marketer supercharges every single marketing campaign it touches. For more information, visit DigitalMarketer.com.
The latest improvements to the Special Report are keeping the advice and suggestions as cutting edge as possible, according to Digital Marketer's production team. Learning how to partner with Amazon doesn't have to be difficult, and the online article said that people can access the report to find out more.