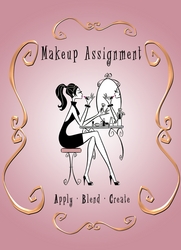 Teen Look Good… Feel Better
Los Angeles (PRWEB) October 1, 2007
A new makeover instructional DVD from make-up artist Monique Powers is now available for teenagers and women of all ages who want or missed the opportunity to learn useful makeover tips. It is both practical and enjoyable and each lesson teaches the ABCs of cosmetic make-up artistry: how to Apply, Blend and Create a beautiful look that will last all day long.
Introducing Monique Powers, illusionist, visionary, and creator of "Make-up Assignment," a cosmetic make-up instructional DVD devoted to helping women look their best by using her new-found cosmetic skills everyday. This instructional make-up lesson is very entertaining, engaging and covers the most common application challenges such as how to: conceal stubborn blemishes and dark circles; correctly apply eye shadow and eyeliner; create full lips; and apply lusciously long faux eyelashes with confidence every time. Viewers will be breezing through their daily routine and laughing at the thought of their old cosmetic make-up habits in no time.
Recognizing her creative passion for make-up at the age of thirteen, Monique's love of beauty has since developed into a need to help women look and feel their best. Since packing up her brushes and moving to Los Angeles, Monique has devoted her time, talent and energy to encourage women of all ages and nationalities to take interest in themselves so that others will do the same, thus prompting her to create "Make-up Assignment." A natural born make-up artist and licensed esthetician, Monique dreamed of using her skills to turn facial flaws into fabulous features, and has since transformed countless women for events of all types. In addition to her crafty make-up techniques, Monique is also coveted for her unique brow tweezing method and airbrush make-up skills.
Monique works as a freelance make-up artist and has a private studio in West Hollywood, Calif., where she not only works her make-up magic but also offers individual and group cosmetic make-up lessons. Additionally, she is a volunteer make-up artist for the American Cancer Society's "Look Good… Feel Better" and "Teen Look Good… Feel Better" programs.
"Make-up Assignment" is available for purchase at http://www.makeupassignment.com. Please also visit http://www.moniquepowers.com to check out Monique's personal blog, favorite cosmetic make-up products, and portfolio. Monique Powers can be reached at 877-682-4411 or monique@empowersbeauty.com
###