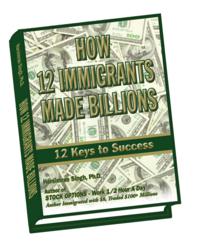 This recession hit me hard. I am hardly left with anything. This book gave me a revival-a great hope that I will make it back with nothing- As seen in Amazon.com
Oyster Bay, NY (PRWEB) April 03, 2012
Learn secrets to making money from an immigrant who migrated to the USA with a total of $8 and is now ranked #1 when one Googles, "Rich Immigrants".
Dr. Harsimran Singh's book, "How 12 Immigrants Made Billions - 12 Keys to Success," tells stories unlike any you have ever read before; stories of people who arrived in America with almost nothing but the desire to succeed and the ability to think positively. All of the billionaires were hindered, as strangers to the United States. A couple of these individuals had hardly enough money for a cup of coffee or a bus token while others lacked the knowledge of English necessary to do so. Yet each one of them, in time, became a billionaire.
Each story also represents one of Dr. Singh's 12 keys to success. To arrive at these 12 keys to success, Dr. Singh has analyzed each billionaire's course of action and life decisions. Whether a reader's goals are spiritual, personal, financial, or a combination of the preceding, every key is a powerful and uplifting message that will transform readers' lives.
In this book, Dr. Singh offers a banquet of experience which contains the ingredients that will enable readers to not only recognize opportunity when it knocks but also to ensure they are ready to open the door, invite it in, and take full advantage of its presence. This book contains lessons so important that readers' hearts will pound in excitement at the prospect of what each coming day can bring.
About the author:
Dr.Harsimran Singh is a philanthropist who gave up millions of dollars for the establishment of charitable institutions and moved thousands of homeless people into decent housing. He has been featured in Fox News, CBS, many other TV and radio programs. The NY Times, NY Post and many other newspapers wrote full page articles on his rags to riches story, He has authored 13 inspirational books. Writing these books has been his way to give back to the people of America where he landed with almost nothing.