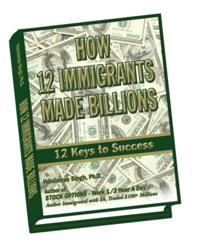 Discipline gives us the ability, the motivation and the desire needed to do the right thing, the right way, at the right time, whether we like it or not.
Oyster Bay, NY (PRWEB) April 07, 2012
Learn secrets to making money from an immigrant who migrated to the USA with a total of $8 and is now ranked #1 when one Googles, "Rich Immigrants".
The following are some extracts from Dr. Harsimran Singh's book,"How 12 Immigrants Made Billions-12 Keys to Success".
Dr. Singh writes,"Self-discipline is absolutely necessary to develop and undertake entrepreneurial pursuits. Your development of strong self-discipline is essential for your attainment of success and the management of the responsibility that success brings. Your daily routine—the time you wake up, how well you take care of yourself, and how you condition your body and mind in preparedness for success—will all determine your likeliness of achieving success while also increasing your ability to exceed expectations and your individual success potential".
Stressing the importance of self-discipline, Dr.Singh writes saying "when people think of self-discipline, they must consider it as a 24/7 commitment to what they want to achieve and in the execution of whatever plans are instrumental to achieving that success". A person's desire for change and efforts towards making positive change promotes good self-discipline. Dr.Singh says,"self-discipline works in patterns and chains of positivity. These patterns allow a person to make a realization, promote the desire for positive change, focus on what there is to gain, enable everyone to achieve that goal, and further instill in them being strong and self-reliance."
"Developing self-discipline can be achieved through your concentration on self in terms of success and becoming successful. This process is strengthened by the positivity you allow to enter and influence your life. Your thoughts are most important; primarily those which initiate negative chain reactions and are counterproductive in the long run. Such thoughts and emotions include anger, envy, lust and ego. Do not act in anger. Do not waste time in lustful pursuits. Allow your ego to take the back burner because it is detrimental to your success potential. Such thoughts and emotions bring with them doubt while inviting negative energy into your life. Your focus on success and your willingness to initiate positive changes in your life is directly connected with the amount of effort you put into changing yourself. This may include things that you create yourself or results of chain reactions that others have created but otherwise negatively affect your life. It is up to you to decide how you want to live your life and to acknowledge any impeding or deterring forces.", writes the author.
Dr, Singh writes,"Self-discipline also concerns sacrifice. And, sacrifices should not be viewed as negative things. You should see the good in making sacrifices. This is particularly true with saving and money management. If you are disciplined you will be able to see the light at the end of the tunnel".
About the author:
Dr.Harsimran Singh is a philanthropist who gave up millions of dollars for the establishment of charitable institutions and moved thousands of homeless people into decent housing. He has been featured in Fox News, CBS, many other TV and radio programs. The NY Times, NY Post and many other newspapers wrote full page articles on his rags to riches story. He has authored 13 inspirational books. Writing these books has been his way to give back to the people of America where he landed with almost nothing. He likes to be engaged in public speaking to encourage others.