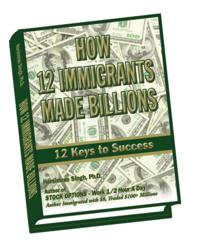 Hard work, commitment and desire are what
keep luck from
being just another four letter word
Oyster Bay, NY (PRWEB) April 08, 2012
Learn secrets to making money from an immigrant who migrated to the USA with a total of $8 and is now ranked #1 when one Goggles, "Rich Immigrants."
The following are some extracts from Dr. Harsimran Singh's book, How 12 Immigrants Made Billions-12 Keys to Success which can serve as a revival for those who have been financially hit during this recession.
Whether it is a new idea, new concept, or a new spin on the old way of doing things, people must strive to distinguish and separate themselves from others in order to achieve success. Author, Dr.Singh writes "Success will not come looking for anyone. One must set goals, seek them, and seize the rewards this process and the person's dedication to the keys of success will bring." Without being able to identify and define purpose, it will not be possible to stay focused on the goals.
Planning the method by which an individual will achieve one's goal is essential for the success and attainment of that particular goal or objective. One should set one's objectives and write them down. Explaining its importance, Dr.Singh writes, "Writing down goals and dreams makes them appear more realistic. When put to paper, they transform from ideas into something concrete, tangible, and visual. They appear more attainable because people have analyzed their thoughts and goals and taken the initiative to turn them into realistic possibilities upon which they built their plans for success."
"A plan for success must be considered a living, breathing, ever-changing outline," says Dr.Singh. "It should be kept in mind that any plan, no matter how much research and effort went into it, must allow for surprises, pitfalls and other uncontrollable obstacles." Leaving room for such deterrents is obviously important, and therefore should be greatly considered when drawing up a success plan. That is one critical difference in planning how to achieve goals as opposed to simply just setting them.
Dr. Singh adds, "A positive outlook provides the focus a person needs to have for success, while a plan sets the parameters and guidelines an individual needs to focus upon." One must be conscious of the fact that there will always be certain things one can control and change.
Dr.Singh writes "the next step is to tackle objectives by committing one hundred percent to plan and creating success. To create success, first make the conscious decision to become successful. One has to sacrifice the energy and undertake the commitment necessary to utilize the keys to success and use them to advantage."
The value assigned to goals and thoughts of future success will help putting into perspective an individual's desire and willingness to succeed. The author, pointing out at the attitude of people, writes "It is essential to maintain a positive attitude in the pursuit of success but also within the anticipation, preparation, and patience that is directly related to the level of success one can potentially achieve."
A defining moment in many affluent peoples' lives is the realization that an individual will not succumb to being complacent and easily satisfied, but instead develop a plan to become successful. Oftentimes, this comes with taking a risk. The author writes, "Look at the life and determine what it is that would make one's life better. An individual must be willing to learn and expand methods of thinking and the way one approaches one's daily life, current job, and future endeavors."
"Thoughts and ideas are significant and there is no limit to where they can take a person and the success they can and will bring with strong work ethic and persistence," says Dr.Singh
About the author:
Dr.Harsimran Singh is a philanthropist who gave up millions of dollars for the establishment of charitable institutions and moved thousands of homeless people into decent housing. He has been featured in Fox News, CBS, many other TV and radio programs. The NY Times, NY Post and many other newspapers wrote full page articles on his rags to riches story. He has authored 13 inspirational books. Writing these books has been his way to give back to the people of America where he landed with almost nothing. He loves to encourage people through his public speaking engagements