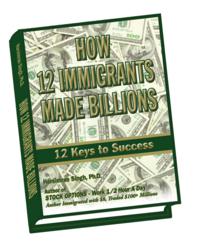 Complacency is the enemy of innovation. Where would we be today if the Wright brothers were happy taking train?
Oyster Bay, NY (PRWEB) April 11, 2012
Learn secrets to making money from an immigrant who migrated to the USA with a total of $8 and is now ranked #1 when one Googles, "Rich Immigrants."
The following are some extracts from Dr. Harsimran Singh's book,"How 12 Immigrants Made Billions-12 Keys to Success" which may be very helpful to those who have been financially hit during this recession.
The author writes, "Developing a business and establishing that an individual wants to be self-reliant in making a person successful takes a unique work ethic and mindset". The author write further, "Entrepreneurs must possess a strong initiative to complete and do everything within their means to produce income. Many people go into business for themselves because they have realized that they are determined to exceed the thresholds of success that in previous ways have fallen short of their expectations."
Entrepreneurs know that they will succeed because they believe that they are capable of success. In many ways, these types of people have convinced themselves that they need to succeed. This realization provides a motivation that is never-ending; an insatiable desire to get ahead, manage their own lives, and grow for themselves a business built on their own work ethic and initiative. "It is the individual who is willing to make sacrifices and develop a method by which they will succeed that will get them where they need to be" writes Dr.Singh.
Entrepreneurs expect growth because they are constantly working towards something bigger, better, newer and more challenging—they do not settle. To truly become successful one should have confidence in self. Dr.Singh says, "Most people begin a business of their own because they have become aware that their potential for income growth increases greatly when they aren't working to make profits for others."
Another quality attributed to having an entrepreneurial passion is the ability to move from one project to the next with the same interest and positivity as done with previous pursuits, despite their successes or failures. Stressing the need for having good qualities Dr.Singh says, "One must have the self-discipline necessary to strive for success while working equally as hard on multiple projects to create multiple streams of income. The term multi-tasking may be a bit of a cliché nowadays, but it is a vital skill that needs to be mastered in order to achieve greater success."
About the author:
Dr.Harsimran Singh is a philanthropist who gave up millions of dollars for the establishment of charitable institutions and moved thousands of homeless people into decent housing. He has been featured in Fox News, CBS, many other TV and radio programs. The NY Times, NY Post and many other newspapers wrote full page articles on his rags to riches story. He has authored 13 inspirational books. Writing these books has been his way to give back to the people of America where he landed with almost nothing. He is a very motivational public speaker.