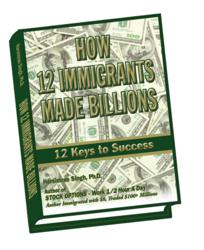 Utilize your strengths while preventing flaws from interfering.
Focus on delegating with others' strengths in mind.
That will help transform efforts into better results
Oyster Bay, NY (PRWEB) April 16, 2012
Learn secrets to making money from an immigrant who migrated to the USA with a total of $8 and is whose books are ranked #1 when one Googles, "Rich Immigrants."
The following are some extracts from Dr. Harsimran Singh's book,"How 12 Immigrants Made Billions-12 Keys to Success."
Dr. Singh writes, "A crucial key to success is your ability to function efficiently and only do what others cannot do for you. This key requires your self-discipline, leadership ability, and commitment to attain your financial independence. Your time is one of your most valuable assets. How you manage your time to become more efficient is vital to your success plan. The more disciplined you are as an individual, the easier it will be for you to realize where you can improve yourself and your time management skills. This is done through the delegation of tasks to others.
"By delegating tasks to others, you free yourself of tasks that get in the way of your focus on increasing your income potential. Your focus on success, outward positivity, and leadership skills will aid you in your effectiveness in the management of others and the delegation of tasks that comes along with employing or otherwise managing other individuals."
The author writes further, "It is important to treat assistants and others you hire as assets. Also, you should take advantage of their service and utilize them to their full potential. As your success grows, their incentives grow, too. Allow your character, positivity, and commitment to bring out their true potential."
Finally, Dr.Singh says, "People should remember to be positive, goal oriented, and constantly work towards attaining financial success. People like to be around those who are positive and flourish in their pursuits as a result of that positive attitude and commitment to success".
About the author:
Dr.Harsimran Singh is a philanthropist who gave up millions of dollars for the establishment of charitable institutions and moved thousands of homeless people into decent housing. He has been featured in Fox News, CBS, many other TV and radio programs. The NY Times, NY Post and many other newspapers wrote full page articles on his rags to riches story. He has authored 13 inspirational books. Writing these books has been his way to give back to the people of America where he landed with almost nothing.