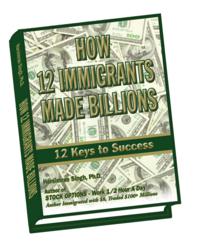 The difference between a successful person and others is not a lack of strength, but rather a lack of will to make positive changes and endure
Oyster Bay, NY (PRWEB) April 17, 2012
Learn secrets to making money from an immigrant who migrated to the USA with a total of $8 and is now ranked #1 when one Googles, "Rich Immigrants."
The following are some extracts from Dr. Harsimran Singh's book,"How 12 Immigrants Made Billions-12 Keys to Success."
The one characteristic that transforms a talent into a well-known success story is the ability to work hard; to produce more and greater things. By doing so, they are thereby increasing their chances of success and potential for renown.
The author, also a motivational speaker writes, "Success is made not found. It is something that must be worked on constantly. Everyone knows that one person who is a 'blowhard' or a big talker and often that individual speaks of goals and successes they have not yet attempted."
Going along with the notion that success is made and not found, one must also accept that success is often created in a number of ways. Success, along with opportunity and supposed good luck, is something that is created through hard work.
Writing realizing success, Dr.Singh writes, "Ability of a person to recognize, acknowledge, and act on success potential is instrumental in realizing success. It is through hard work that anyone gets others to recognize one's success potential which will increase exposure to opportunity because others will know capability of the individual, dedicated, and eager to make positive things happen."
There is no such thing as good luck other than the luck people are able to create through their hard work and willingness to do what is necessary to succeed. If success were an easy feat, it would simply be called trying. Dr.Singh writes, "There is a great difference between having talent and applying it to one's own advantage. Consistently working hard to achieve goals opens up a number of possibilities, or opportunities, which make success happen."
Creating good luck comes with hard work, yes, but it also involves a great deal of thought. So one must be willing to continuously work hard and also be grateful for the opportunities that become available based on merit and work ethic.
The author adds, "Success requires dedication, hard work, and certainly includes longer hours. After all, making opportunities for success requires sacrifice. Success does not necessarily create more success. But success makes opportunities more available for the taking and transforms slippery obstacles into stepping stones of continued success."
Without persistence, perseverance, and strong follow through, there is no sense in making goals self. To become successful, Dr.Singh, in his book, says, "Persistence must be one of the defining characteristics. Ability of an individual to constantly persevere and be tenacious in seeking and seizing goals will differentiate an individual from the person who fails or quits and the person who utilizes the power of persistence and continues on with faith in their potential and success plan".
About the author:
Dr.Harsimran Singh is a philanthropist who gave up millions of dollars for the establishment of charitable institutions and moved thousands of homeless people into decent housing. He has been featured in Fox News, CBS, many other TV and radio programs. The NY Times, NY Post and many other newspapers wrote full page articles on his rags to riches story. He has authored 13 inspirational books. Writing these books has been his way to give back to the people of America where he landed with almost nothing.