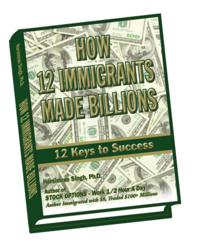 Success comes from the ability to measure the size of you risk without the added distraction of the size of the reward
Oyster Bay, NY (PRWEB) April 23, 2012
Learn secrets to making money from an immigrant who migrated to the USA with a total of $8 and is whose books are now ranked #1 when one Googles, "Rich Immigrants."
The following are some extracts from Dr. Harsimran Singh's book,"How 12 Immigrants Made Billions-12 Keys to Success".
A high level of confidence will not only allow a person to play the game, but play the game to win. The more the positive thinking the more confident an individual will become. Confidence is essential when it comes to making decisions, speaking to other people, and asserting success potential of a person. The author and motivational speaker, Dr.Singh writing successes of people says "To become successful in business one should truly believe in and act on one's belief that one can succeed. The power to activate mind through positivity sets anyone forward on path to build success. People will find success when they become so saturated with that desire that they must see their goals through to fruition. Confidence levels will help pressing on when others quit because it gives an edge that most ordinary people do not have. This edge prepares people for challenges and allows them to ease into situations where previously they were too awkward for introductions and being an outgoing individual".
Goals, aspirations, and drive to succeed are what separate a person as an individual. Internally, everyone has one's own gauge on what people accomplish in life. Dr.Singh alerts people to be "beware of those who have lower standards when it comes to their success. These people, who don't believe in themselves and don't respect and appreciate themselves enough to better themselves, tend to bring them down and surround themselves with negative things to feel better about them by comparison. Their worlds are small and their perceptions are so low that everything seems so large, threatening, and unattainable to them".
Dr.Singh writes "To truly become positive and remain focused in pursuit of success, or in many instances, continued success, the person must be willing to approach a realization. To arrive at this position of positivity, a person must be able to accept one's past and present day life as a reality". This will not come by stumbled upon luck or just skimming the surface, but through honest self-searching and self-realization. It is through positive thinking and positive self-image that an individual will be able to achieve the confidence necessary to firmly seek the success one always wants.
About the author:
Dr.Harsimran Singh is a philanthropist who gave up millions of dollars for the establishment of charitable institutions and moved thousands of homeless people into decent housing. He has been featured in Fox News, CBS, many other TV and radio programs. The NY Times, NY Post and many other newspapers wrote full page articles on his rags to riches story. He has authored 13 inspirational books. Writing these books has been his way to give back to the people of America where he landed with almost nothing.