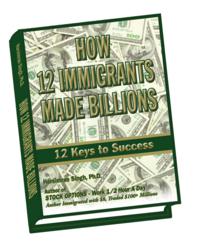 Success comes from the ability to measure the size of your risk and not distract yourself with the size of the reward.
Oyster Bay, NY (PRWEB) April 24, 2012
Learn secrets to making money from an immigrant who migrated to the USA with a total of $8 and now some of his books are ranked #1 when one Googles, "Rich Immigrants."
The following are some extracts from Dr. Harsimran Singh's book,"How 12 Immigrants Made Billions-12 Keys to Success".
Risk enables people to use their capital and resources to their advantage for the gain of great financial reward. Leadership ability and entrepreneurial passion allows calculating the risks associated with business decisions and new ventures.
Dr.Singh, an author and a motivational speaker writes, "Keep in mind the metaphor of the dam and the potential it builds. That dam springs leaks of success with rushing waters, creating other cracks for water to spout from. With enough trials and attempts, your potential will break down that barrier to the rewards you seek. One has to take risks in order to cash in on one's true potential. Realizing this and utilizing the keys to success will help a person taking on life's challenges and risks".
If an individual can take advantage of a supply and demand situation, the author says, it is likely that they will have financial success. Without a positive thinking, it would not be possible for a person to make large risks which would prove most lucrative. Dr.Singh adds "Decision-making ability of an individual must be grounded in positivity, self-confidence, strong focus on one's success in contributing to the betterment of communities, and utilization of risk to gain rewards".
Rather than viewing the situation as a negative, a positive mindset allows a person to acknowledge the opportunity, assume the challenge, foresee success in taking the risk, and take the steps necessary to follow through and be rewarded for a person's confidence and efforts. Dr.Singh writes "People having a positive mentality that is reinforced by self-esteem, eagerness to lead and win, a strong work ethic, and the ability to think in a growth-oriented capacity. Open-mindedness allows a person to recognize one's own potential while seeing the potential in opportunities within the world of risk and rewards".
About the author:
Dr.Harsimran Singh is a philanthropist who gave up millions of dollars for the establishment of charitable institutions and moved thousands of homeless people into decent housing. He has been featured in Fox News, CBS, many other TV and radio programs. The NY Times, NY Post and many other newspapers wrote full page articles on his rags to riches story. He has authored 13 inspirational books. Writing these books has been his way to give back to the people of America where he landed with almost nothing.