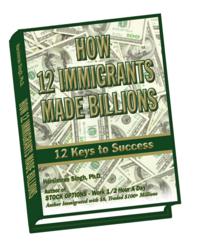 By maintaining focus on your net worth and keeping a positive frame of mind, all the problems confronting you will surrender as if confronting an unbeatable army
Oyster Bay, NY (PRWEB) April 25, 2012
Learn secret #12 to making money from an immigrant who migrated to the USA with a total of $8 and is now ranked #1 when one Googles, "Rich Immigrants."
The following are some extracts from Dr. Harsimran Singh's book,"How 12 Immigrants Made Billions-12 Keys to Success".
Risks and rewards go hand-in-hand in that they are directly proportional to one another. With risk, loss is inevitable and one should keep the big picture in mind and focus on the long-term reward. The longevity and follow-through involved with financial success requires that people are constant in their will to succeed and realize that, like most things, their net worth will fluctuate, particularly in volatile markets and in our current economic climate.
Dr. Singh writes, "Do not to change how you feel about yourself, others, and the world around based on what you are worth financially or what you think you are worth. You can not live to think that you are intrinsically better than other people based on your wealth. If your net worth were to plummet, you are not changed as a person nor should you feel differently about your current situation and your outlook on the future. What you have done to get to where you are is what you must continue to do in order to maintain faith in yourself and your ability to restore what may temporarily seem lost. Remember, there is a huge difference between being temporarily cash-broke and being poor. If you have money tied up in assets, you will figure out a way to make the money return"
Utilization of all of the keys to success gives an individual the ability to handle anything that comes their way. Positivity and self-discipline is not to be compromised by temporary loss. Such situations tend to create worry in people, but courage will rescue the individual from all types of worry. The net worth shall be restored through the very keys that have created wealth in the first place.
Focus on daily returns and losses, particularly with the stock market, will fill a person's life with greed and anxiety. Such things can be harmful to health and overall level of positivity and focus, which in the long run, may prevent a person from restoring losses.
Also, many times money loss is just on paper and is a small portion in comparison to the bottom line. Dr.Singh writes to "focus on net worth and understand that it is an accumulation of risks that have taken and rewards that have reaped up to this point in time".
About the author:
Dr.Harsimran Singh is a philanthropist who gave up millions of dollars for the establishment of charitable institutions and moved thousands of homeless people into decent housing. He has been featured in Fox News, CBS, many other TV and radio programs. The NY Times, NY Post and many other newspapers wrote full page articles on his rags to riches story. He has authored 13 inspirational books. Writing these books has been his way to give back to the people of America where he landed with almost nothing