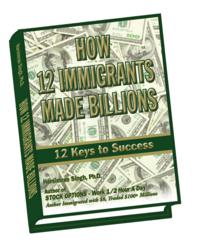 There is no harm in a doing a little advertising for yourself. Thinking big is a way of advertising your success, which enables others to associate you with success.
Upper Brookville, NY (PRWEB) April 29, 2012
Learn secrets to making money from an immigrant who migrated to the USA with a total of $8 and whose books are now ranked #1 when one Googles, 'Rich Immigrants'. The audience is usually spell bound to listen to his inspirational life transforming speeches. They have earned him a unique nickname, 'Trump With a Turban'.
The following are some extracts from motivational speaker and author Dr. Harsimran Singh's book, "How 12 Immigrants Made Billions-12 Keys to Success".
Dr. Singh writes," Sometimes significant thoughts, innovative ideas, and sources of inspiration come when you least expect them. Your ability to constantly remain positive, sure-footed, and open-minded will allow you to be free and receptive in your ideas for approaching and finding success. Form good habits and have a routine. Successful people stay focused and are confident that they can be successful and are capable of achieving further success in their lives. Psychologically, saturate yourself with the idea, concept, triumph, and rewards associated with success. This level of concentration and focus takes a large amount of commitment and fortitude that is gained over time through your newly found positivity and open-mindedness."
"To have extraordinary success, you must strive to be an extraordinary person. Attribute to ordinary things your passion, great ideas, and fresh perspective to arrive at wonderful, brilliant ideas. The ingenuity and innovation that comes with new ideas harnesses a huge potential for paving a path to financial success. Moments of creativity present opportunities for newness of perspective. As seen in advancements in the technology and manufacturing industries, creativity and innovation can be very lucrative," says Dr. Singh.
The Author writes," People who, with the proper utilization of keys to success, demonstrate strengths and invest their energies into purposeful pursuits and thinking big are able to transform themselves into extraordinary individuals. It is through the power of positivity, thinking big, persistence, creating a success plan, and recognizing potential that you can and will become extraordinary."
Many people want these things and quite possibly think they, in one way or another, deserve to have them. Dr.Singh writes, "Well, first you must think that an individual should aim higher than a million dollars. Despite the fact that it won't buy you what it once could, there is no reason why you should not consistently think and reach higher. People who make bold statements by saying they want certain things will most likely not acquire them. Wanting something is very different than desiring something for there is so much more that can be attained through differentiating a want from a desire. The 'rich' understand these things and realize they must make sacrifices in order to create capital. Capital spent on assets will grow wealth whereas when your saved money is spent on cars and vacations, it can no longer work towards making you money. They can, of course, be one in the same but only if you can picture yourself being successful and have positivity, mindset, and focus in the pursuit of those finer things."
About the author:
Dr. Harsimran Singh's rags to riches story is very inspiring. He has authored 13 inspirational books. Writing these books and delivering free inspiring speeches has been his way to give back to the people of America where he landed with almost nothing.