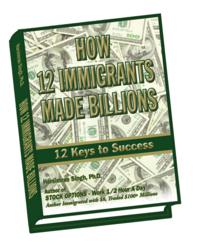 Success is made, not found. It is something that must be worked on constantly.
Upper Brookville, NY (PRWEB) July 19, 2012
When one Google searches "Rich Immigrants," it is no wonder Dr. Harsimran Singh Ph. D. is ranked #1. Having made his wealth in real estate, stocks, and other business ventures, Dr. Singh is now sharing his priceless knowledge with the world. In his inspiring book, "How 12 Immigrants Made Billions-12 Keys to Success," Dr. Singh releases 12 secrets to his financial success.
As discussed in the book, one characteristic that transforms a talent into a well-known success story is the ability to work hard; to produce more and greater things. By doing so, they are thereby increasing their chances of success and potential for renown.
The author, also a motivational speaker, writes: "Success is made, not found. It is something that must be worked on constantly." Without persistence, perseverance, and strong follow through, there is no sense in making goals self. While many people believe luck plays a role in being successful, Dr. Singh warns that the only luck that exists is created through hard work and the gratefulness we express for the opportunities we are already presented with. The expression of being thankful attracts more opportunities, which can lead to further success.
In these trying economic times, many U.S. inhabitants are not sure which opportunity is the one that will lead them to the ultimate success. To answer the people's query, Dr. Singh emphasizes that one must understand that success is created in a number of ways. In other words, there are many paths to the top of the mountain. The most important part is not the path itself, but remembering to take the first step. Without moving forward, one will not be any closer to success and hence their success will not be recognized. According to Dr. Singh, "The ability of a person to recognize, acknowledge, and act on success potential is instrumental in realizing success. It is through hard work that anyone gets others to recognize one's success, which will further increase exposure to other opportunities." Take a resume for example. It is a paper dedicated to showing one's successes. It is largely due to the information on that piece of paper that an employer recognizes one's potential and hires an individual.
The author adds, "Success requires dedication, hard work, and certainly includes longer hours. After all, making opportunities for success requires sacrifice. While success does not necessarily create more success, it does make opportunities more available for the taking and transforms slippery obstacles into stepping stones of a continued path of greatness."
About the author:
Dr.Harsimran Singh is a philanthropist who gave millions of dollars for the establishment of charitable institutions and moved thousands of homeless people into decent housing. He has been featured in Fox News, CBS, and many other TV and radio programs. His 'rags to riches' story has also caught the attention of several newspapers, including New York Times and New York Post which have published full-page articles about Dr. Singh's success. He has authored 13 inspirational books. Writing these books has been his way to give back to the people of America where he landed with almost nothing.
While dubbed the "richest immigrant" in the United States, Dr. Singh is interested in hearing others' stories of perseverance and ideas principles for success. He realizes that as times change, some advice will too. To find out more about the possibility of being published alongside one of the most affluent individuals in America, please check Facebook, LinkedIn, Twitter.