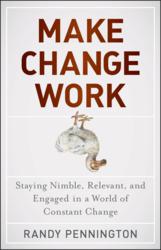 The change that organizations desperately need to survive and thrive in today's turbulent environment fail because they are over managed and under led. -Randy Pennington.
Addison, Texas (PRWEB) April 25, 2013
Publishing house John Wiley and Sons has announced an official publication date for the newest book from leadership speaker and author, Randy Pennington. The book, entitled "Make Change Work: Staying Nimble, Relevant, and Engaged in a World of Constant Change", will be available in July 2013. The book teaches leaders at every level how to build a culture that thrives in turbulent times and provides practical tools to thrive and expand opportunities.
According to Pennington, relentless competition, advancing technology and the struggle to remain relevant have made the ability to change a matter of survival for some industries and professions. Companies that can quickly identify, anticipate and adapt to changing customer needs and wants are the winners in a world where the competitive landscape changes overnight.
"Make Change Work is the best book I have read on the real inner-workings of change. Pennington does a great job of equating the emotional side of change with the pragmatic, 'let's get it done,' side. Lessons for the future rest on these pages," says Gary Nelon, chairman of First Texas Bancorp.
Make Change Work: Staying Nimble, Relevant, and Engaged in a World of Constant Change (Wiley; July 2013; Hardcover & E-Book; ISBN: 978-1118617465; $22.95) aims to provide leaders with culture management strategies and tactics that delivers meaningful business results. The book draws on Pennington's twenty-plus years of work helping lead organization in the private, not-for-profit and government sectors, successfully implement change and build cultures focused on results, relationships and accountability. The book shares specific "how-to" ideas for creating urgency, building support and dealing with resistance to change.
"This isn't another book that tells you change is coming get ready for it, it's a field guide to help leaders create urgency, build support, show resiliency, and act boldly in the face of change. Up to 70 percent of change efforts fail to achieve their desired result, and I believe that the main reason leaders are unable to build the nimbleness and engagement they need to remain relevant is that change, as traditionally practiced, is over managed and under led," says Pennington.
Make Change Work will help leaders establish a clear and purposeful goal, inspire a culture change that relentlessly focuses on customers, and creates an environment where talented people want to help them succeed.
About the Author
Randy Pennington is a 20+-year business performance veteran, author, and consultant. He has worked with leading organizations including Transamerica Life Insurance Company, First Texas Bancorp, SmithBucklin, Hyatt Hotels and Resorts, Texas A&M University, Marathon Oil, Sprint PCS, Albermarle, Progressive Insurance, and DFW Airport in addition to government agencies at the local, state, and national level. Randy is also 15-time teaching excellence award winning instructor in the Cox Business Leadership Center at Southern Methodist University. His ideas and comments have appeared in The New York Times, Entrepreneur, Executive Excellence, on CNN, Fox News, the BBC, ABC radio, and numerous professional and trade journals. He is author of two previous books: Results Rule! which received the Best Book Award from USA Book News in 2007 and On My Honor, I Will: The Journey to INTEGRITY-DRIVEN Leadership. For more information visit http://www.penningtongroup.com/