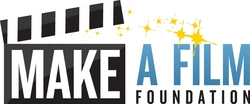 Make A Film Foundation is about giving children with life-threatening medical conditions the opportunity to use filmmaking to give themselves a voice
Beverly Hills, CA (PRWEB) April 18, 2011
Make A Film Foundation (MAFF) proudly presents the world film premiere and red carpet gala benefit of "Deep Blue Breath" starring Sean Astin (The Lord of the Rings), Miguel Sandoval (Medium), Natasha Gregson Wagner (High Fidelity), Ernie Hudson (Oz, Ghostbusters), directed by Patricia Cardoso and introducing Clay Beabout. The event will be held at the Writers Guild Theater on Saturday, April 30th at 7:30 PM. Red carpet begins at 6 PM.
"Deep Blue Breath" was written by Clay Beabout when he was 11-years-old and is based on his true-life experiences. Clay has a rare, life-threatening disorder called V.A.T.E.R. Syndrome and will undergo his 40th surgery days after the screening. On screen, while a medical team is battling to save his life in surgery, Clay fictionally travels into the animated world of his body to fight against characters that represent his disease. Supporting Clay on screen is a star-studded cast including Astin, who plays his father, and Hudson who performs as the voice of Clay's nemesis. Jonathan Dayton and Valerie Faris (directors, Little Miss Sunshine), and actor Elijah Wood (from the upcoming film The Hobbit) were among the team members who mentored Clay through the filmmaking process. Make-A-Wish Foundation introduced Clay to MAFF.
Make A Film Foundation's Founder and Executive Director, Tamika Lamison, highlighted the importance of the foundation's work, "Deep Blue Breath" and the premiere: Make A Film Foundation is about giving children with life-threatening medical conditions the opportunity to use filmmaking to give themselves a voice and raise awareness about what they go through. This event is a culmination of what Clay has accomplished, and a celebration of making a child's dream come alive in ways in which he may not have imagined possible."
Hosted by television personality and producer, Quddus, the benefit will include a musical performance by winner of The Oprah Show's national singing competition, Abraham McDonald, and an award ceremony honoring directors Rodrigo Garcia (Nine Lives) with this year's Mentorship award and Neil LaBute (In the Company of Men) with MAFF's Humanitarian award. Guests will have the opportunity to participate in a silent auction with proceeds supporting Make A Film Foundation.
EVENT INFORMATION
WHO: Make A Film Foundation
WHAT: Red Carpet Benefit Premiere of "Deep Blue Breath"
WHERE: Writers Guild Theater, 135 South Doheny Drive, Beverly Hills, CA 90211
WHEN: Saturday, April 30, 2011 @ 7:30 PM / 6:00 PM Red Carpet Arrivals
TICKETS: Available at http://www.makeafilmfoundation.org with a $35 suggested donation
For interviews, press passes or more information about the event:
Event PR contact: Sayo Martin, press@makeafilmfoundation.org
For more information about Make A Film Foundation and partnerships/sponsorships:
MAFF contact: Tamika Lamison, info(at)makeafilmfoundation(dot)org
ABOUT MAKE A FILM FOUNDATION
Make A Film Foundation teams children who have serious or life-threatening illnesses with film industry professionals to help them create short film legacies. These children write and star in their own films with the help of famous directors, writers and actors.
###