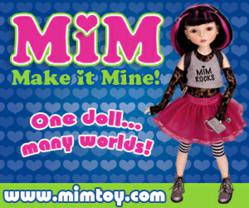 One doll many worlds!!
Houston, TX (PRWEB) November 23, 2011
Make It Mine LLC (MiM™), a Houston, Texas, based toy company debuted its revolutionary new line, MiM Dolls through its website at w http://www.mimtoy.com. This is a first-of-its-kind line of high-quality, crazy fun, fully customizable, poseable, rockin' cool play dolls and accessories.
This innovative combination of features make MiM Dolls stand alone in their category. They are 16-inch premium ball-jointed play dolls, with changeable wigs, changeable eyes and 15 articulated joints that separate to allow for changeable parts. From the dolls' faces to their eyes, wigs, torsos, hands, feet and clothing, MiM Dolls' parts and accessories are interchangeable, so a girl can make her doll a black-haired, brown-eyed soccer player one minute and a pink-haired, purple-eyed mermaid the next. As a girl ages, her doll's features can be changed to reflect her changing style and current trends, adding up to long-lasting fun and a great way for girls to positively express their style and individuality.
"My sister, Annette, and I have never grown out of our enthusiasm for dolls and toys; we put that to good use during the last few years to build a successful, celebrated collectible doll company, but we needed to go further—we needed to take what we have learned and start making dolls that would be put in the hands of children and really played with" says MiM chief designer and product development officer, and cofounder Paulette Goodreau. "Girls need to grow up having confidence in their own style and be able to make decisions independently. Our goal is for MiM Dolls to contribute positively to that process. We feel MiM will empower girls to create their own dolls, tell their dolls' stories and dream up entire worlds for their dolls. MiM will inspire girls to use their 'MiMaginations' to 'Make It Mine!'"
Annette Goodreau, CEO and cofounder of MiM, agrees: "I'm excited to be offering an innovative and empowering play experience for girls that allows them to create the dolls of their dreams. This is just the start; my sister and I have many great plans for future toy lines!"
If a girl's idea of her dream doll changes, she can easily reinvent her doll with the wide range of attractive features and accessories that are available, all of which adhere to the high standards of style and quality that have become the hallmark of dolls produced by the Goodreau sisters. "That's the beauty of MiM," says Paulette. "The girls run the show. They make the dolls. We just provide them with boundless possibilities."
MiM Dolls are available for sale via http://www.mimtoy.com and are recommended for ages 8+.
About Make It Mine, LLC:
Annette Goodreau is MiM's chief executive officer. An entrepreneur and proven business person, she started Goodreau Doll LLC, a collectible doll company, with her sister, Paulette, in 2006 and has been an actuary in the insurance industry for more than 20 years. Annette's last insurance position was as senior vice president and chief actuary for a publicly held insurance company with $2.5 billion in premium.
Paulette Goodreau is MiM's chief design and product development officer. An award-winning designer and trendsetter in the doll industry, Paulette has been a pioneer in the U.S. ball-jointed doll (BJD) movement, introducing and adapting the popular Asian-market trend to the American market. A passionate doll collector, Paulette is a wellspring of imagination and innovation. Her style—blending couture with quirky, eccentricity with contemporary culture—is unique and in-demand.
Together, the sisters founded Make It Mine, LLC. MiM is built upon the sisters' fundamental values—personalization (Make it Mine!), fun, empowerment, quality, awareness and imagination (or as they like to say, 'MiMagination'). It is their goal to make a positive impact in the lives of children everywhere through their innovative doll and accessory line.
For more information, please visit our website at http://www.mimtoy.com!
###