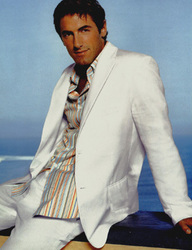 It was our pleasure to help a needy veteran such as Patrick
Chicago, IL (PRWEB) January 25, 2009
When ABC TV's Extreme Makeover Home Edition wanted to surprise the Patrick Tutwiler family, they added a special twist that MisterShop.com furnished.
The family had been living on the Fort Riley military base because their home in Chapman, KS was destroyed in June when a tornado ravaged the town. Army Spec Patrick Tutwiler was shot in the neck by an Iraqi sniper and returned home with a brain injury, post-traumatic stress disorder and speech problems. Less than a year later, their town was hit by an F4 tornado
While their home was being rebuilt, the TV show sent them on a cruise. The Tutwiler family got a second, unexpected surprise when they found out they were to be treated to a wedding ceremony where they renewed their vows.
The producers of Extreme makeover reached out to MisterShop.com who is famous for their fabulous destination wedding suits. MisterShop.com was delighted to donate one of their famous "beach wedding" suits to Patrick for the ceremony, which millions of people watched on ABC TV on Sunday, January 25th.
"It was our pleasure to help a needy veteran such as Patrick" said Ken Kurtz, head buyer at The Mister Shop. "The tricky part was secretly figuring his correct size so he would be surprised when the family was told of the wedding ceremony." It was great working with the people at Extreme Makeover Home Edition.
The gorgeous, pure linen suit worn on the show is available at MisterShop.com/Linen-Suit and in their Northwest Chicago area store, The Mister Shop in Harlem Irving Plaza.
About The Mister Shop/ MisterShop.com
Owned and operated by the same family for 60 years, The Mister Shop is famous for premium quality men's clothing. Their "physical store" is located in Harlem Irving Plaza- 4200 North Harlem Avenue in Norridge (near Chicago), IL.
They have expanded nationally through their increasingly popular website MisterShop.com. They have become famous by selling a large number of elegant, yet casual destination wedding suits.
Contact:
Ken Kurtz, Media Relations or Brett (Customer Service Specialist)
The Mister Shop/ .MisterShop.com
Phone 708-456-9848
###