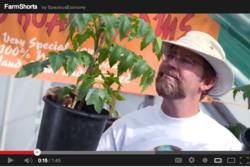 "Famers are the original makers and hackers, and if we can't bring everyone at Maker Faire to the farms to experience their story, it's a thrill to bring the farms to them through FarmShorts and other festival participants," says Kim Dow of Maker Faire.
Santa Rosa, Calif. (PRWEB) May 09, 2013
FarmShorts, a community-supported shared-benefit video initiative to benefit local sustainable farmers, is honored to be chosen by Maker Faire to take part in a new Farm & Food Film Festival, part of its FarmAid HOMEGROWN Village, where attendees share every aspect of food making at the wildly popular 2013 Maker Faire Bay Area event, held May 18-19 in San Mateo, Calif.
"We are pleased and excited to feature FarmShorts and the Farm & Food Film Fest in the HOMEGROWN Village at Maker Faire this year." says Kim Dow, food makers & HOMEGROWN Village manager for Maker Faire.
"Famers are the original makers and hackers, and if we can't bring everyone at Maker Faire to the farms to experience their story, it's a thrill to bring the farms to them," adds Dow.
"We're thrilled to be showing FarmShorts in the HOMEGROWN Village at Maker Faire this year," says Cornelia Hoskin, marketing director for Farm Aid. "Not only are the films gorgeous and fun, FarmShorts visually tell the stories of the American farmers who work so hard to grow the safe, healthy and delicious food HOMEGROWN Village celebrates."
For this inaugural festival, FarmShorts will be sharing the stage with sustainable food documentary "The Symphony of the Soil" and PBS' award-winning "Nourish: Food + Community," along with other nationally recognized films. Read: Maker Faire Bay Area 2013 Hosts HOMEGROWN Village
"This invitation validates our FarmShorts NorthBay pilot program, which had already exceeded expectations," says FarmShorts founder Kala Philo. "More importantly, it reinforces FarmShorts' value to these hardworking farmers and the communities supporting them through this initiative."
FarmShorts will be rolling out a wave of video shorts for the festival, including videos released as part of a North Bay pilot program:
Wild Boar Farms - heirloom tomatoes featured on Martha Stewart and favorite of sustainable food pioneers chef Alice Waters and top-selling author Michael Pollan (Cook, Omnivore's Dilemma, In Defense of Food).
Green String Farms - a Sonoma collaboration between sustainable farming leader Bob Cannard and Fred Cline, founder of California wine pioneer Cline Cellars.
Stewart Ranch - 100-year-old family ranch whose unique "oreo" cows don't mind roaming Napa wine country (aka Belted Galloways).
Taramasso Chicken Ranch - heritage chickens known for their transformative powers.
Victorian Farmstead - 3rd-generation rancher, butcher & retailer now expanding into Sebastpol's new Barlow Business Complex.
Through crowdfunding, sponsorship and other community support, FarmShorts provides quality web videos to sustainable local farmers and food producers, extending their exposure to tech-savvy consumers.
"Less than 1% of sustainable farms and food producers market with video, even though quality web shorts are a viral medium offering a long shelf life and exponential returns," says Philo.
This lack of video content is in stark contrast to skyrocketing web video usage, which makes up the majority of Internet and mobile traffic, according research by Cisco Systems. See FarmShorts News: Online & Mobile Video Leaving Farmers in Dust [Infographic].
Beyond benefitting farmers directly, FarmShorts benefits the individual communities supporting these farmers and the overall sustainable food movement.
"Shooting several videos in a region creates a coherent, engaging visual landscape of what the food movement looks like, literally, from the ground up," says Philo. "With community support, FarmShorts shares authentic farm scenes and the stories of the true heroes -- the organic and sustainable farmers, ranchers and food entrepreneurs who work long hours for very little monetary return to provide your family and mine with nutritious, sustainable REAL food."
The enthusiastic response to its North Bay, Calif., pilot program makes other regional productions possible, according to Philo, who specifically thanks lead sponsor JONES Architecture California, developer of a new boutique hotel in downtown Petaluma, for helping FarmShorts get off the ground, promotional partners Made Local Marketplace, Slow Money North Bay, Marin Organic and Work Petaluma and the many crowdfunding supporters.
To view the project video and help more small, sustainable family farms tell their stories, visit FarmShorts at IndieGoGo.
Calendar Editors
May 18-19
Maker Faire Bay Area 2013
Saturday-Sunday, May 18-19, at the San Mateo County Event Center, 1346 Saratoga Drive, San Mateo. Saturday, 10 am to 8 pm; Sunday, 10 am to 6 pm. $10-$35; ages 3 and under are free. To purchase tickets, including weekend passes: http://makerfaire2013.eventbrite.com/
May 12
FarmShorts Premiere Screening
FarmShorts will be screening at Green String Farms on Mother's Day, Sunday May 12 at 3571 Old Adobe Rd Petaluma, CA. From 11am-4pm, admission is free with FarmShorts screening scheduled for 2:30pm.
Tweets
#FarmShorts screening at #FarmAid #MakerFaire HOMEGROWN Village, 5/18-19, San Mateo
Catch #FarmShorts at #MakerFaire 's 1st #Farm & #Food Fest, 5/18-19, San Mateo
About FarmShorts
FarmShorts is a shared-benefit video initiative to fund and create short films for sustainable farms and food producers. FarmShorts is a hatchling of SpaciousEconomy media.
About Maker Faire FarmAid HOMEGROWN Village
For the fifth consecutive year, Maker Faire, a production of Maker Media, is partnering with Farm Aid to bring this specially curated part of the event to life. HOMEGROWN Village is about sharing with Maker Faire attendees every aspect of food making: farming and gardening, harvesting, cooking and eating. Whether it's learning how to get back to the basics when it comes to food or apply creativity to food growing and making, attendees will be sure to eat up what HOMEGROWN Village has to offer.
Contact
Joanne Marino
farmshortsCRM(at)gmail(dot)com
512-965-5173