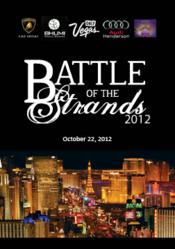 Las Vegas, Nevada (PRWEB) July 30, 2012
Vegas Beauty Unbound and Fromm International, a designer and manufacturer of world-class salon products for the professional beauty industry, invite talented local Makeup Artists and Stylists to an open entry call for Battle of the Strands 2012: Xtreme Beauty, the most epic salon competition in history. The event, open to the media and beauty salon industry, will be held today, July 30, from 5-8 p.m. at Fromm International's headquarters at 603 Dempster Street, in Mount Prospect, IL. Doors open at 4:00 p.m.
The event is co-sponsored by Stila Cosmetics, Fromm International, Bhumi Makeup Brushes, Schwarzkopf Professional and Vegas Beauty Unbound, producers of Battle of the Strands. A professional film crew will be available to assist salon teams who want to film their entry videos, free of charge. Master colorist, stylist, and Battle Host, Kim Vo, will be in attendance to meet and share his knowledge and insights with interested salon teams. The entire event will be captured on film by Project Runway's LookTV, as part of its ongoing chronicle of the Battle of the Strands competition.
The Chicago event is one in a series of interactive activities on the Xtreme Roadshow, leading up to Vegas Beauty Unbound, a three-day educational and networking extravaganza for the beauty and fashion industry. From October 20-22, thousands of industry professionals will descend on Las Vegas to share ideas, learn industry innovations, and witness Battle of the Strands 2012: Xtreme Beauty, a head-to-head battle featuring outrageous challenges between the country's top and unknown salons. The final battle between the top five contenders will be held at The Joint at the Hard Rock Hotel and Casino. To be eligible for consideration, interested salons must submit their video by August 15 to video(at)battleofthestrands(dot)com.
Additional activities at Vegas Beauty Unbound include a spectacular runway show, a trade show of innovative industry products, a student competition, and Beauti Gras, a Mardi Gras style Halloween Party at Body English.
Vegas Beauty Unbound sponsors include the Las Vegas Convention and Visitor Authority (LVCVA), Lamborghini of Las Vegas, Audi Henderson, Bhumi Makeup Brushes, Schwarzkopf Professional, Stila Cosmetics, M3K Beauty & Izunami Hair Tools of New York, with more sponsors to be announced.
For More Information
For more information about the event, please contact Elena Long, Communications Director of Battle of the Strands, at 702/990-3368 or 702/612-0394, email elena(at)emailbestbeauty(dot)com or visit vegasbeautyunbound.com
To submit celebrity talent or register for media credentials, please contact Mari Escamilla at Marketing Maven Public Relations via phone or email: (310) 994-7380 or mari(at)marketingmavenpr(dot)com
##