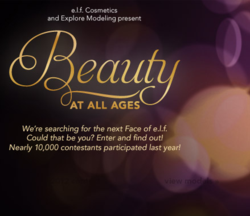 The 2011 Face of e.l.f. winner, Sarah Kidd, was featured in the Boston Herald just after winning our contest and was just named 2nd runner up in Miss Massachusetts USA 2012
New York, NY (PRWEB) February 09, 2012
Three's a charm with e.l.f. Cosmetics' third annual nationwide model search, "Beauty At All Ages 2012." Beginning on February 7th, aspiring models of all ages are encouraged to enter their best photographs for a chance to become the 2012 "face of e.l.f." and win other spectacular prizes.
e.l.f. Cosmetics will once again partner with premier casting and modeling website, ExploreModeling.com, to manage entry submissions and user voting. The contest is open to the general public and encourages aspiring amateur models, professionals, and loyal e.l.f. fans to submit pictures that capture the individual's unique beauty and personality. Candid photos are accepted—professional shots not required. Enter the contest today at Beauty At All Ages 2012 on the EyesLipsFace.com website.
The grand prize winner of the Beauty At All Ages 2012 contest will be chosen from the semi-finalists of four age categories and featured not only on the EyesLipsFace.com website, but also in e.l.f.'s Social Media channels including Twitter, Facebook, and YouTube. The winning "face of e.l.f." will receive the opportunity to design and add their name to a personalized makeup set for sale on eyeslipsface.com, win an e.l.f. "makeup for life package" ($250 value), and take home a $1000 American Express Gift Card.
"Our Beauty at All Ages contest was a huge success last year—we had thousands of contestants and thousands of fans involved in online voting. The 2011 Face of e.l.f. winner, Sarah Kidd, was featured in the Boston Herald just after winning our contest and was just named 2nd runner up in Miss Massachusetts USA 2012," said Lesley Klein, Director of e-Commerce at e.l.f.
In keeping with the bestselling makeup brand's mission to appeal to a wide demographic of beauty enthusiasts, the model search contest is segmented into four age categories: Teens, 20's, 30's, and 40's+. Judging will be conducted by e.l.f. representatives. One finalist from each category will receive a special makeover and attend a professional photo-shoot held by e.l.f Cosmetics at the company's headquarters in New York City, NY. One lucky semi-finalist will then be chosen for the coveted role of the 2012 "face of e.l.f."
An additional prize will be awarded to the contest participant who wins the popular vote on ExploreModeling.com which includes an e.l.f. "makeup for life package" ($250 value). Voting ends on 3/31/12.
For more information on Beauty At All Ages 2012, please visit EyesLipsFace.com.
About e.l.f. Cosmetics:
Eyes Lips Face (e.l.f.) Cosmetics was created in the belief that innovative technology, quality ingredients and superb delivery systems should not be limited to prestige retailers, and every woman should have the opportunity to experience luxury cosmetics without sacrificing her budget. Since the brand's introduction over six years ago, the e.l.f. Cosmetics website (http://www.eyeslipsface.com) has grown to include over 2 million members and has become a global source for savvy beauty consumers looking for superior quality cosmetics, professional expert tips and valuable feedback.
###