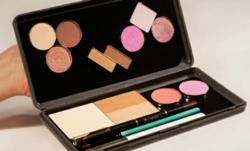 Instead of carrying individual eye shadows, blushes and makeup pencils in a jumbled bag, I wanted one simple case holding my own assortment of shades and products," said Monetta Plassmeyer of Mettano Designs.
San Diego, CA (PRWEB) April 24, 2012
Mettano Designs is pleased to announce its new Stick With It™ "Pop, Set and Go!" makeup organizer palette. The patent-pending, double-sided case features a unique holding material that makes it easy to organize eye shadows, eyelashes, blushes, pencils and small implements in an impact-resistant attractive case.
Mettano Designs' Stick With It makeup case was inspired by founder Monetta Plassmeyer's love of makeup and organization. Plassmeyer set out to solve the problem of carrying multiple makeup brand cases, pencils, and accessories in a disorganized cosmetic bag. She found makeup organizing palettes in the marketplace; most required product re-labeling, affixing magnets or using double-sided tape or adhesives. After two years of research and development, Plassmeyer aptly-named the case Stick With It. The name reflects not only its key feature, but also the determination it took to design the new makeup organizer product.
The Stick With It double-sided case measures 7" x 4" x 0.5" and lays flat when it's open. It allows makeup artists and cosmetic enthusiasts to create custom makeup palettes. Users pop makeup out of its original case or packaging. The makeup pots are then set on the unique interior surfaces. Users easily reposition and replace makeup components as needed. There is no sticky residue on the bottom of the makeup pots. Vellum paper is included for placement between the top and bottom trays.
Stick With It™ benefits include:

mixing, matching and replacing products from more than 30 makeup brands in one convenient palette.
organizing makeup by its color, style or brand.
customizing makeup artists' palettes for special occasions, like wedding parties.
using pre-moistened towelettes to clean the inside of the case, with no need to disassemble.
reducing environmental impact with recyclable plastic case.
"I have two Stick With It palettes -- one for daily use with my regular makeup and one for going out dancing. In the evening one, I also keep a mirror in it, so everything I need is in one small case. It's so handy when you need to touch up quickly and don't want to carry a heavy purse," said Massage Therapist Lisa L.
"I like a variety of makeup brands and, instead of carrying individual eye shadows, blushes and makeup pencils in a messy, jumbled bag, I wanted one simple case that accommodated my own assortment of shades and product choices," said Mettano Designs' Founder and President Monetta Plassmeyer. "The feedback I've received from Hollywood makeup artists using the cases is very exciting. I look forward to helping other women stick with it!"
For more information on the new Stick With It™ makeup organizer visit http://www.stickwithitpalette.com
About Mettano Designs
Founded in 2007, San Diego-based Mettano Designs is home to creatively organized products. Navy veteran and career pharmaceutical representative, Monetta Plassmeyer, founded Mettano Designs in her spare time in order to create earth-friendly products to simplify life. The Stick With It makeup organizer case is the company's first product entry. For more information visit, http://www.stickwithitpalette.com.