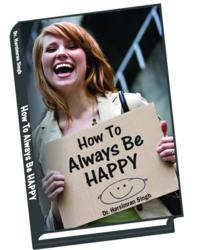 A formula for ultimate success! It's quite simple, really. "Double your rate of failure"
Oyster Bay, NY (PRWEB) March 31, 2012
Learn how to be happy and wealthy from an immigrant who migrated to the USA with a total of $8 and is now ranked #1 when one Googles, "Rich Immigrants."
The following is an extract from Dr. Harsimran Singh's book," How to Always be Happy"'which may be very helpful for anyone to be happy and wealthy in life.
People like to be happy and wealthy. In uncertain economic times, it's not difficult for so many people to allow fear to enter, overcome, and control their lives. People fear losing what they have and, perhaps, losing what they have yet to attain. People work hard towards goals and to build a foundation on which to support goals and dreams but people in general are unsure of their outcomes. There are certain comforts, such as peace of mind and financial stability, which people acquire through the maturation process of their lives. However, many times people become comfortable because they fear loss. Many of them become complacent with their routine, habits, and ways of life because it has worked well enough for them so far in their lives.
Dr. Singh writes, "When did 'well enough' become the best way to make a person happy? People need to be rational and realistic about their goals and dreams in life, as wanting can lead them mad and cause them to go astray. Fear, too, can lead a person down this path because it prevents people from acting and leaves them waiting alone with their wants. If people are able to identify and analyze fears, they will be able to more effectively address how they affect their lives, decisions, and futures."
The author suggests writing down a list of fears on a piece of paper, no matter how small or silly they may be. Frankly, if they are on one's mind they may not be small or silly fears at all. Many times fears are irrational which means they are very much just in their head. If this is indeed true, get them out of one's mind by writing them down on a piece of paper. Here one can see one's fears and think about each one of them.
Dr.Singh questions, "Why people are afraid of flying?" or "Why do people fear commitment?" The fears are not necessarily the important piece of the puzzle. Rather, the things such fears prevent a person from obtaining and enjoying are the larger issues. For example, a person dislikes of traveling on planes may inhibit the man from taking a higher paying position where one must fly once a week. Whereas a person's fear of commitment in a relationship may cause unhappiness because they are alone and they want a family of their own. In one way or another, both fears are really just a sign that a person is afraid to change.
"Moving on" then, may just be a matter of a person accepting and embracing change. A helping hand in this process may be to look into inspiring stories of triumph and success. When a person learns about real people who, despite facing greater adversity than their own, succeed and overcome their fears, one may just realize that they too can want and embrace change.
Dr. Singh is the author of 13 inspirational books including, "How 12 Immigrants Made Billions from Nothing. Some of them hardly had enough money for a cup of coffee or a bus token when they landed in the USA. Recently, they have been listed on the top of the list of billionaires.