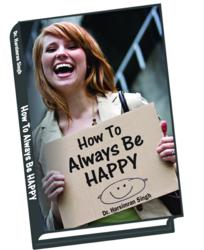 Emphasize goodness. Nurture high values, set high goals, traverse unexplored paths and uncharted courses
Oyster Bay, NY (PRWEB) April 02, 2012
Learn how to be happy and wealthy from an immigrant who migrated to the USA with a total of $8 and is now ranked #1 when one Googles, "Rich Immigrants."
The following is an extract from Dr.Harsimran Singh's book,"How to Always be Happy" which may be very helpful for anyone to be happy and wealthy in life.
Dr.Singh focuses much on the relationship of an individual and relationship within the family that keeps everyone to happy and wealthy. "Your family should be of utmost importance to you and you should be sure to let them know that," writes Dr.Singh. "Everyday, take the time to tell your family members how important they are to you. You will feel better about everything in your life, when you express to those who love you the most what they mean to you. Family is your support system and is essential in times of need and moments of illness or weakness. They, too, should and will be there for you in happier times to share in your accomplishments and successes," says the author.
Dr. Singh writes, "It should remain a priority in every child's and adult's lives to keep their family members close, especially because we share more with them than any acquaintance or passerby. Family is a part of you and you are a part of their whole. They have given you the values and moral support which has made you the person you are today. You share experiences and memories that are unique to your identity and these are important things to keep in mind when facing the trials and stresses of daily life. Your family has given you the tools to not only enjoy life but also succeed in everything you do."
Sometimes tempers flare, personalities clash, and differences in opinion will surface but do not cut ties. One should make sure to send birthday cards and make those phone calls that they are remembered often. Many people would not have these thoughts in their mind, if they would just reach out and make contact to these important people in their lives. Neglecting family and friends breaks down "support system." There is no need to push the important people away because such action will leave an individual isolated and there would be nobody to talk to, laugh with, cry on, and spend time. In a world with so many strangers, Dr.Singh says, don't choose to keep to self and risk the potential of being miserable.
The author suggests everyone to talk to their family members, telling family members how much they mean to them, making phone calls, and sending cards or letters with an old picture inside.
Dr. Singh is the author of 13 books to inspire people for making money and being happy including, "How 12 Immigrants Made Billions-12 Keys to Success." Some of them had hardly enough money for a cup of coffee or a bus token when they landed in the USA. Some did not even know English. They are now listed as billionaires by Forbes magazine.