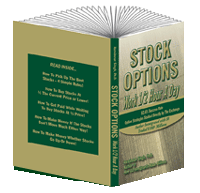 I knew I will be rich because I do opposite to what the majority does
Oyster Bay, NY (PRWEB) April 04, 2012
Learn secrets to making money from an immigrant who migrated to the USA with a total of $8 and is now ranked #1 when one Googles, "Rich Immigrants."
Dr. Harsimran Singh's book, "Stock Options-Work 1/2 Hour a Day" provides strategies to trade stock market like no other book does. This book is a gist of author's 35 years of trading experience.
It may be hard to believe but 95% of people who trade stock options lose money more often than they make money. Dr. Singh feels that one of the main reasons for people losing money is because they get their advice from advisers who are ill-informed. In his words, "They are like swimming instructors who teach people how to swim without ever going in the water themselves."
For Dr. Singh, it is much different. He has jumped into the deepest of water, having traded more than $100 million in his personal account in the stock market. Throughout this experience, Dr. Singh has tried many different strategies to find which ones work best. Acquiring this knowledge cost him millions of dollars. But now, in his book, Stock Options-Work ½ Hour a Day, Dr. Singh offers you his valuable knowledge and experience for the mere price of a book.
Over the course of Dr. Singh's experience in trading, he has been shocked to discover that most brokerage houses discourage people from trading options. But in this book, Dr. Singh encourages people to trade, as he has analyzed different strategies for bull, bear, and neutral markets and relayed his successful strategies.
About the author:
Dr.Harsimran Singh is a philanthropist who gave up millions of dollars for the establishment of charitable institutions and moved thousands of homeless people into decent housing. He has been featured in Fox News, CBS, many other TV and radio programs. The NY Times, NY Post and many other newspapers wrote full page articles on his rags to riches story, He has authored 13 inspirational books. Writing these books has been his way to give back to the people of America where he landed with almost nothing.