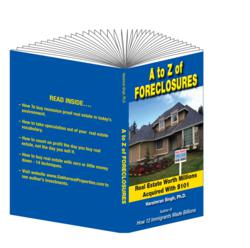 It is amazing to read how author acquired real estate worth millions with $101.
Upper Brookville, NY (PRWEB) June 20, 2012
Author, real estate investor and developer Dr. Harsimran Singh, is pleased to announce the release of his book, A To Z of Foreclosures -Real Estate Worth Millions Acquired with $101.
This book urges readers to think twice about purchasing real estate unless they can sell it for a much higher price the same day. To some, Dr. Singh feels, this may be an unbelievable and, perhaps, controversial statement. But, in A to Z of Foreclosures: Real Estate Worth Millions Acquired with $101, Dr. Singh explains the logic behind his statement as how it applies to people who have very little money and equally little knowledge of the real estate industry but also reaches out to those who are financially well-off and experienced in the buying and selling of property.
The book highlights fourteen (14) different techniques of acquiring properties particularly relevant in these difficult times. In addition, the book discusses the processes and procedures of foreclosure, reasons that borrowers default, methods for making real estate investments recession-proof, condition of title, and the list goes on. This book is comprehensive and highlights numerous examples from Dr. Singh's 3 decades of real estate experience where he has purchased and sold hundreds of properties.He has made the art of making money so easy. To read more about that experience, one can visit http://www.SabharwalProperties.com
About Dr. Harsimran Singh:
Harsimran Singh, Ph.D., migrated from India to the United States in 1973 and is now a US Citizen. He neither had, nor was he allowed to take, more than $8 from his birth country. Over his time in the United States, Dr. Singh has risen to the top 1% of Americans in terms of financial wealth.
His guiding light and life's fulfillment has always motivated him to help people with his knowledge and experience while he makes his living through the ownership of shopping centers. He is the author of thirteen books on subjects such as religion, spirituality, finance, stock options, and real estate.
Dr. Singh is married to a practicing Anesthesiologist. They are blessed with three children and reside on Long Island, New York. Two of his children are attorneys and third one is doing Masters in Real Estate. They are all involved in real estate investment business.