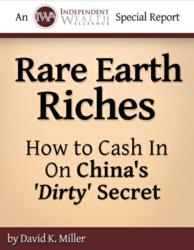 Folks are eager to access the value of their gold, giving dealers the opportunity for real income generation.
Austin, TX (PRWEB) May 21, 2012
Making money from gold doesn't have to involve a brick and mortar business, or a pawn shop mentality of cheating the customer. Any one, no matter how much or how little experience they have, can become a successful gold dealer and earn more money than they could have imagined, according to a recent AbsoluteWealth.com article. Thanks to outrageously high gold prices, the business is booming and people are jumping at the chance to dump their unwanted precious metals, the article said.
Sellers are earning good money, and buyers are turning their items in to refiners for even better money, said the article. Absolute Wealth has recognized the growing interest in gold dealing, and has accessed one of the most experienced and knowledgeable minds the jewelry and precious metal business has ever seen.
That expert shares his story and his advice in the "Gold Profit Formula," the new training course that molds people into legitimate gold dealers. It teaches about the types of gold, silver, and other pieces of jewelry that get good money and shouldn't be treated as scrap. It also teaches how scrap (whether it's old, broken, or just not high-quality) can be turned into major profits through the refining process. It's basically an easy gold guide that's jammed with valuable information, the online article said.
It's all about learning the value of precious metals and offering accordingly. The tools used to determine weight, size, and financial worth are explained using video trainings and a full-scale manual. "Gold Profit Formula" also guides people in the process of confidently connecting and communicating with potential customers to make them comfortable enough to conduct business. Sometimes the sleaziness of a "Cash for Gold" company creeps people out, said the article. If dealers act in a professional and fair way, they'll see business pick up fast and have more customers than they could have ever expected.
Absolute Wealth is an expert team of real investors and advisors devoted to identifying winning strategies for exceptional returns. Members subscribe to the Independent Wealth Alliance for professional investment analysis and recommendations on the latest trends and progressions. For more information and subscription instructions, visit AbsoluteWealth.com.
Folks are eager to access the value of their gold, giving dealers the opportunity for real income generation. This is a chance to gain a significant amount of extra cash with the "Gold Profit Formula." The article said it's the most complete source of information on making money from gold, and it's available now from Absolute Wealth.