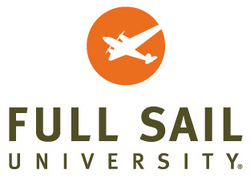 "The Making Strides Against Breast Cancer Walk is an event where everyone shares a common goal to help fight breast cancer, and Full Sail cherished the opportunity to have been involved."
Winter Park, FL (PRWEB) October 30, 2010
Full Sail University (fullsail.edu) partnered with the American Cancer Society for their Making Strides Against Breast Cancer Walk. Held on October 23, the American Cancer Society attracted more than 22,000 participants to the event while raising over $500,000.
Full Sail's participation was coordinated by Full Sail's "Pure Motivation" student volunteer group and included 107 staff and students from Full Sail who helped during the Making Strides Against Breast Cancer Walk. Entertainment Business Master of Science Department Chair Ron Cook's fundraising organization, Give 'til it Rocks, provided entertainment from the main stage and throughout the 5K-walk route.
The event kickoff at the Walt Disney Amphitheater at Lake Eola in downtown Orlando included a Full Sail student-produced video, which featured a September 19 flash mob performance to a special audio track from Melissa Etheridge.
"We are very pleased to have helped through our participation in this very special event for the American Cancer Society," said Stacy O'Mara, Director of Professional Development and staff leader of Pure Motivation. "The Making Strides Against Breast Cancer Walk is an event where everyone shares a common goal to help fight breast cancer, and Full Sail cherished the opportunity to have been involved."
About Full Sail University:
Since 1979, Full Sail University, located outside of Orlando, FL, has been an innovative educational leader for those pursuing careers in the entertainment industry. With over 34,500 alumni, graduate credits include work on OSCAR®, Emmy® and GRAMMY®-winning projects, best-selling video games, and #1 grossing U.S. concert tours. Full Sail's 191-acre campus and online education platform proudly welcomes over 12,400 students from 50 states and 49 countries.
Full Sail currently offers a total of 28 campus and online degree programs including: Associate of Science Degrees in Graphic Design and Recording Engineering; Bachelor of Science Degrees offered in: Computer Animation, Digital Arts & Design, Entertainment Business, Film, Game Art, Game Design, Game Development, Graphic Design, Internet Marketing, Music Business, Music Production, Recording Arts, Show Production, and Web Design & Development; Master of Science Degrees in Education Media Design & Technology, Game Design, Entertainment Business, and Internet Marketing; and Master of Fine Arts Degrees in Creative Writing and Media Design.
Full Sail was named the 2008 "School/College of the Year" by the Florida Association of Postsecondary Schools and Colleges. The university has also been previously named: The Harvard of Game Schools by Tips & Tricks Magazine; one of the top three New Media Schools by Shift Magazine (alongside the Massachusetts Institute of Technology and New York University); one of the Top Five Game Degree Programs in the world by Electronic Gaming Monthly; one of the Best Music Programs in the country by Rolling Stone Magazine; one of the Best Music Business Departments in the Schools That Rock: The Rolling Stone College Guide; and one of the Best Film Programs in the country by UNleashed Magazine.
For more information about Full Sail, please visit http://www.fullsail.edu.
###