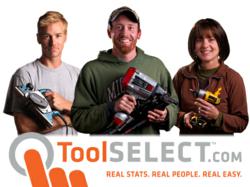 We took our best-in-class 18-volt LXT high-torque impact wrench and added features that power and phone utilities demand, including a 7/16" hex quick-change chuck and an oversize ring
Grand Rapids, MI (PRWEB) March 14, 2012
Makita tools continue to fuel discussion on ToolSelect.com with the release of their new 18V LXT 7/16" hex high-torque Lithium-Ion cordless impact wrench.
Makita's new cordless impact wrench was designed for electric and telephone utility companies, and features 325 foot-pounds of torque generated by 2,200 rotational impacts per minute.
"We took our best-in-class 18-volt LXT high-torque impact wrench and added features that power and phone utilities demand, including a 7/16" hex quick-change chuck and an oversize ring," said Ethan Haughawout, product manager of cordless products with Makita. "The LXWT01 is another weapon in the Makita LXT arsenal of tools that help utility companies move away from hydraulic tools."
Makita designed the tool to be a powerful substitute for air-powered and AC impact wrenches, using a 2-pole motor to create a top no-load speed of 1,900 RPM and 2,200 IPM and a max torque of 325 foot-pounds.
Built for the job site, the cordless impact wrench uses an ergonomic grip and large rocker trigger, LED light and shock-absorbent handle to protect the battery housing.
"This is a specific tool built for specific uses," says Tom Klein, vice president of marketing and merchandising with ToolSelect. "It will be very interesting to watch the discussions in our community, especially among people who work or have worked with electric and telephone utility companies."
About ToolSelect
ToolSelect is an unbiased community powered by its members that covers all aspects, types and brands of tools, but does not actually sell any tools. ToolSelect's members include everyone from experienced tradesmen to complete novices. Users trade tips, compare notes, debate their favorite tools and work together to help each other make intelligent purchasing decisions.
Like ToolSelect on Facebook (ToolSelect)
Subscribe to ToolSelect on YouTube (toolselecttv)
Follow ToolSelect on Twitter (toolselectmedia)