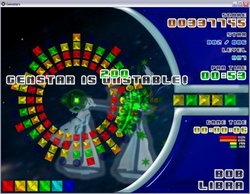 a bit of a spit and polish...
Redditch, Worcestershire (PRWEB) June 17, 2008
Mak released Gemstars back in March, 2008 -- the studio's debut title as an independent game developer. Since then, they have been working on numerous secret projects, but have managed to take the time to give Gemstars "a bit of a spit and polish..." with a view to a retail distribution late this summer.
Gemstars is a "match 3" puzzle game -- that certainly puts a different "spin" on the genre, where you are engaged in spinning a disc of Stargems in order to make groups of 3 or more. Clearing a disc in Challenge Mode creates a brand new Gemstar, which forms part of the missing Constellations of the Zodiac -- or populates the night sky when playing the game in Panic Mode.
Mak Software decided that their visual tweaks, and the addition of an excellent set of new music tracks would be an ideal opportunity to offer these updates to their website visitors with a hefty summer discount. This offer will only last 21 days and runs from 16th June, 2008 through to 6th July, 2008.
The independent studio currently has another two projects in development, and a major game concept currently in the pitching process with some big industry names.
For additional information, please contact Malcolm Sparrow, or visit MakSW
###