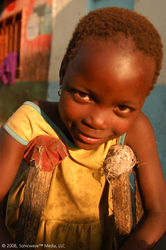 We plan on saving more than 100,000 lives with this album
Los Angeles, CA (PRWEB) February 7, 2008
Independent record label releases album Save My Soul -- Music To Prevent Malaria, a compilation of songs performed by children affected by malaria.
Proceeds from each 21-track disc sold will be used to fight malaria. For every album sold, the label will procure and distribute 2 insecticide-treated mosquito nets in Zambia, Africa, where malaria is a pandemic.
According to the World Health Organization (WHO) and the United Nations Children's Fund (UNICEF), Malaria kills 3,000 children a day.
Mosquito nets are the most cost-effective way to prevent this tragedy.
Nets are placed over beds to shield people from malaria-carrying mosquitoes, which bite their victims primarily at night.
"We plan on saving more than 100,000 lives with this album," said the album's producer, Edward Lyman.
Lyman and his crew traveled to Zambia with a group of humanitarians from Los Angeles that distributes free mosquito nets throughout the country.
"We followed the group to Africa, initially filming a documentary about its efforts. We were inspired by their story and used our resources to create a product that we know is going to save lives," Lyman said.
The music compilation showcases the optimistic spirit of children living in extreme poverty. "To record this live album, we set up our microphones on location in bush camps, remote villages, orphanages, tribes, places of worship and inner cities."
The CD retails at $20 on the Official Save My Soul - Music to Prevent Malaria Website. The record label, Sonicwave(TM) Media, LLC, will procure and distribute 2 nets for every album sold.
PRESS KIT
Downloadable HD or SD video coverage and music from Africa available on request
To download digital press kit including hi-res photos visit:
Save My Soul - Music to Prevent Malaria - Press Kit
WEBSITE
Official Save My Soul - Music To Prevent Malaria Website:
Save My Soul - Music to Prevent Malaria Official Website
###