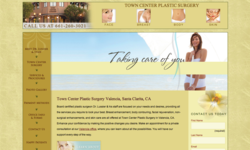 If my male patients are self-conscious about the appearance of their chest, I recommend gynecomastia as the right procedure for their cosmetic enhancement goals.
Los Angeles, CA (PRWEB) February 16, 2012
According to the American Society of Plastic Surgeons (ASPS), plastic surgery among men has risen 2% in the past year to a total of over 1.1 million cosmetic procedures performed. The study shows that certain procedures such as BOTOX® Cosmetic have seen increases of 9% from 2009, while gynecomastia, or male breast reduction, rose by 6% to 18,280 procedures as one of the top five most popular surgical enhancements for men. Valencia plastic surgeon Dr. Marc Lussier says he has noticed similar trends at his practice as more men have begun to undergo aesthetic procedures. Based on a similar study from the American Society for Aesthetic Plastic Surgery (ASAPS), approval of cosmetic enhancements amongst Americans has now risen above half of the population, which Dr. Lussier says may be a likely catalyst for the increase in demand for male plastic surgery.
While procedures performed on men take up only 9% of the total number of cosmetic procedures performed in 2010 according to the ASPS statistics, Dr. Lussier says he expects that number will grow as the approval rating improves and social stigma against male enhancements diminishes. He says in today's appearance-driven culture, many men at his practice are turning to plastic surgery procedures such as eyelid surgery to help give them an edge in the competitive job hunt and improve their chances of employment success. With a wide range of subtle enhancements on the aesthetic product market, Dr. Lussier says men have a number of options to choose from that can offer the boost in their appearance they need to improve self-confidence.
Dr. Lussier says facial procedures such as rhinoplasty or eyelid surgery can help restore facial symmetry and give patients a naturally youthful, refreshed appearance. Also, for those patients looking to sculpt their bodies and tone their features, he says liposuction and male breast reduction are popular surgical options that can offer effective solutions to patient needs. "Gynecomastia surgery defines the contours of our male patients' pecs, giving them a slimmer appearance. They will not only look great at the beach, but also enhance their appearance when wearing slim cut clothing."
Regardless of which procedures male patients may be looking for, Dr. Lussier always recommends consulting with a board-certified plastic surgeon before undergoing any treatment so as to determine the best course of action for the patient's individual concerns. Through the skilled hands of a qualified surgeon, he says patients can experience the benefits of improved self-confidence and a more positive body image. "If my male patients are self-conscious about the appearance of their chest, I recommend gynecomastia as the right procedure for their cosmetic enhancement goals."
About Marc Lussier, MD, FACS
Dr. Marc Lussier received his undergraduate education at Carleton College and earned a graduate degree in Physiology and Biochemistry from the University of Minnesota, after which he attended the University of Minnesota School of Medicine for his medical degree. He completed a general surgery residency at New York University Medical Center and a plastic surgery residency from Baylor College of Medicine, in addition to several Post-Doctoral and specialized fellowships in plastic surgery at the University of Southern California. Dedicated to continued education, Dr. Lussier has participated in several rhinoplasty and laser skin resurfacing training seminars and an Endoscopic Plastic Surgery Course at the University of California, Los Angeles. He is board-certified by the American Board of Plastic and Reconstructive Surgery and the American Board of Surgery, focusing on cosmetic non-surgical enhancements as well as surgical procedures such as breast augmentation in Los Angeles. Dr. Lussier is also a Fellow of the American College of Surgeons and a member of the American Society of Plastic Surgeons, the American Society for Aesthetic Plastic Surgery, and several other professional organizations.
Located at 24510 Town Center Drive, Sutie 180 in Valencia, CA, Dr. Lussier's practice, Town Center Surgery, can be contacted at (661) 260-3021. He can also be contacted online via the website lussiermd.com, towncentersurgeryweightloss.com, or facebook.com/lussiermd.
###