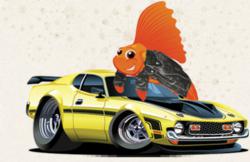 Los Angeles, CA (PRWEB) September 26, 2012
Men are often thought to be in their element when they are gruff and unkempt. That perception, however, is changing as more men seek out grooming tips online and male-friendly salon locations offline to keep their physical appearance in step with the times. Gone are the days of "metrosexual"; now, a man who takes pride in his appearance is simply a man. RoadFish.com, an up and coming men's lifestyle magazine, has locked into this niche by offering grooming articles on topics in mens fashion and in-depth reviews of male-friendly salons.
RoadFish.com, an online reviewer for men's grooming products; including male-friendly salons, offers honest reviews of locations where men can get no-hassle pedicures and back hair removal, among other grooming services. "Yes, some girls prefer a hairy chest, but I have never met a girl who likes back hair," says RoadFish.com's head reviewer, Mark Johnson. Johnson, like other men, sees no reason to give up his ability to be both manly and also properly groomed. With this in mind, RoadFish.com has positioned itself as a key player in the market of online magazines that cater specifically to men, offering everything from grooming tips and advice for men to financial subjects, such as how to obtain a credit score for free.
RoadFish.com regularly reviews the latest in men's grooming and the reviews they offer on male-friendly salons are detailed enough for the reader to make a decision on whether they would feel welcomed at the given location. The tips and reviews are helpful for both grooming novices as well as grooming experts—men at any level and stage in life.
About RoadFish.com
RoadFish.com lifestyle and finance magazine is an online men's magazine that commonly features articles on travel, lifestyle, and dating advice for men. RoadFish.com readers tend to be guys in their 30's and 40's, most of who have already set and achieved high personal goals for themselves, and are heading steadily towards a new goal. RoadFish.com men's lifestyle and finance magazine features stories on men's luxury items, vacation ideas, budgeting tips, and information on managing personal finances.