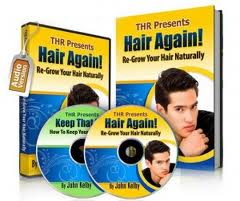 The new book now released includes entirely natural ways to stimulate new hair growth.
San Antonio, Texas (PRWEB) January 17, 2013
Author John Kelby used to struggle with hair loss until he decided to do something about it. A new book has been authored as a guide for men with balding or thinning hair to use to learn about natural hair regrowth methods. This male hair loss treatment book titled "Hair Again" is one solution now available to help men regain thicker hair as well as self-esteem and confidence.
A hair transplant surgical procedure can cost thousands of dollars. These follicle restoration and implant procedures often require thousands of hairs to be harvested and implanted in strategic patterns to achieve pleasing results according to research. The new book now released includes entirely natural ways to stimulate new hair growth.
The various forms of hair loss are discussed in the new book. These can include hormonal imbalances, male pattern baldness, stress and non-medically related forms of alopecia in men. Each of these forms are presented and the amount of hair loss that a man has is determined. This information is used to provide the basis of the natural treatment methods that are described.
Aside from the useful information published in the new book, the method of delivery is one of the advantages of this new book series. This book is offered as an e-book and includes an audio book version as well as more than one no charge guides to use as companions to the book series. Men who are balding or have thinning hair could benefit from exploring the information presented in this book series.
About John Kelby
As a former balding man, John Kelby put his writing and research ability together to provide the basis of his new Hair Again books series. This series is written from the knowledge that John gained during his own struggles with hair loss and expert interviews conducted through medical research. The information that is now provided in John's book series is one alternative that men can try who have thinning or balding hairlines. John Kelby created his new hair loss book as a complete training solution for men around the world battling forms of hair loss.