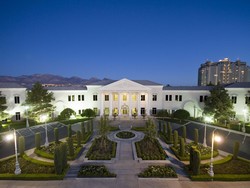 Andropause is real. Men go through changes as they age because of a natural decline in hormones: central obesity, lost drive, not thinking sharply, doubting themselves, less energy, lowered libido. The good news—things definitely can be done about it.
Las Vegas, NV (PRWEB) June 24, 2010
Robert D. Willix, Jr., MD—Chief Medical Officer (CMO) of global age management leader Cenegenics® Medical Institute and CEO/CMO of Cenegenics Boca Raton—appears Monday, July 5, 2010, on O2 Media's hit morning show "The Balancing Act" for a frank, humorous segment on andropause (male menopause, coined "manopause" by the show's female co-hosts). The Balancing Act airs weekdays at 7 am - 8 am EST/PST.
Willix delivers a lively segment focused on the reality of andropause and gives "The Balancing Act" audience—a show about women, for women—tips on how to spot "manopause" symptoms in their men and advice on what can be done to help men get fit and stay healthy.
"Andropause really does exist. Practically all men go through changes as they age because aging is related to a natural decline in hormones. They develop central obesity, lose their drive and ability to think sharply, doubt themselves and have less energy and lowered libido. The good news is there definitely are things that can be done about it," Willix said.
Willix says that both genders experience menopause, but a man's is much subtler than his female counterpart's. Sparked by a decline in androgens (male sex hormones), andropause typically begins in a man's 40s. Testosterone levels actually begin to diminish in a man's early 30s with the resulting symptoms—physical and mental—creeping over a 20-year period.
Willix and his colleagues at Cenegenics favor a proactive medical approach that is a 180-degree from the traditional "disease-based" mindset. As a result, Cenegenics' comprehensive evaluations and customized patient programs have shown to decrease the risk of age-related disease, increase energy (physical/sexual), boost sex drive, improve muscle tone, decrease body fat and sharpen thinking.
For more information about Cenegenics, please visit http://www.cenegenics.com. Register for quick access to the informative Guide to Healthy Aging, Executive Summary and media excerpts. To schedule an interview, please contact Ann Castro, Cenegenics Director of Media Relations: 702.953.1588.
About Robert D. Willix, Jr., MD
Dr. Robert D. Willix, Jr is the Chief Medical Officer (CMO) of Cenegenics® Medical Institute and CEO/CMO of Cenegenics Boca Raton in Florida. He is a former board-certified cardiac surgeon, who pioneered the first open heart surgery program in South Dakota. In 1981, he shifted his career to preventive medicine, becoming the Director of Human Performance and Cardiac Rehabilitation for the North Broward Hospital District in Florida. His postgraduate medical studies focused on many integrative medical disciplines, including age management medicine that eventually led to his affiliation with Cenegenics. Recipient of several awards, Dr. Willix received the 2009 Alan P. Mintz, MD award for medical excellence in age management medicine. He also has earned national recognition as a healer, teacher and speaker, authoring a number of books and papers. Most recently, he coauthored a scientific paper/expert review entitled "Growth Hormone and Testosterone in Heart Failure Therapy," published in Expert Opinion on Pharmacotherapy, an international, MEDLINE-indexed, peer-reviewed journal.
About Cenegenics
Cenegenics® Medical Institute, recognized leading authority in age management medicine, has centers in Las Vegas, Nevada; Charleston, South Carolina; Boca Raton, Florida; Dallas/Fort Worth, Texas; Atlanta, Georgia; Chicago, Illinois; Los Angeles, California; Philadelphia, Pennsylvania; Washington, DC; New York City, NY. Additional centers are scheduled to open in other major metropolitan areas in the near future. With an established presence in the medical community, Cenegenics uses a proactive approach based on solid science and comprehensive evaluation. Their established protocols have been recognized as the next generation of medical science, capturing global attention. Cenegenics offers CME-accredited physician training and certification opportunities in age management medicine via the nonprofit Cenegenics Education and Research Foundation (CERF). Headquartered in Las Vegas, Cenegenics serves more than 20,000 patients worldwide—2,000 are physicians and their families.
###