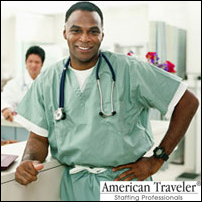 It takes personality, compassion and the desire to care for others.
Boca Raton, FL (PRWEB) April 13, 2007
Although men comprise less than 10 percent of the nurse workforce in the U.S., travel nursing remains a high-paying alternative for men seeking the adrenaline and personal fulfillment of other civil service and emergency jobs and want to stay close to home.
Whereas the median salary for firemen and EMTs is somewhere between 30K and 50K a year, travel nurses can earn between $70,000 and $100,000 depending on assignment.
Travel nurse jobs with American Traveler include free private housing and health insurance, a corporate-matched 401(k), and bonuses ranging between $500 and $12,000.
"At first I was attracted to travel nursing for the money, but it's fit in perfectly with our goal to raise children and be near family," said 28-year-old Wisconsin travel nurse Eric D.
The travel RN pursued nursing fresh out of high school. Family and friends agreed that there were plenty of jobs and the pay was good. At age 21, Eric graduated with an Associates Degree. At 24, he started traveling. And although his first travel nurse assignment to California was what really got him hooked, the RN now commutes as a travel nurse in O'Clair and comes home every night to wife and baby.
"Travel nursing is allowing us to grow our family," said Eric. "It's nice to be local and have American Traveler help pay the mortgage."
Because the demand for nurses and allied health professionals has exceeded supply in healthcare, hospitals and out-patient care centers across the U.S. are paying a premium for their services. As a result, travel nurse companies such as American Traveler are able to negotiate a lifestyle for their clients not found in the firefighting and EMT professions: 36-hour work weeks, self-scheduling, the flexibility to choose from hundreds of urban, rural, and resort destinations to work, and the ability to travel with family and pets. The travel nurse always goes home to free private housing at the end of a shift--not a bunk, and not a dormitory.
"Travel nursing is a major contender in terms of pay and benefits for men looking to serve the community and help others in time of need," said Recruitment VP Mary Kay Hull.
A travel nurse job in Critical Care or at a Level III Trauma Center can be every bit as action-packed and essential to saving lives as that of a firefighter or paramedic. Men inclined to this type of service not only find superior pay and benefits in travel nursing with American Traveler, but can work fewer hours, have more control over their schedules, and can choose the type of Critical Care travel nurse job they prefer--whether it be working with adults in Emergency Departments or Cardiac Care Units, or caring for children in Pediatric ICUs.
"It takes a certain type of man to be a nurse," said Eric. "It takes personality, compassion and the desire to care for others."
Travel nurse jobs at American Traveler range from 13-week assignments to permanent positions. Should a travel nurse find a travel nurse job near their current residence, they can commute and receive generous monthly housing stipends. But should nurses choose to travel, American Traveler will find them free private housing in a safe secure community close to work and amenities. Not only are the jobs personally fulfilling and lucrative, it's a way to see the country, meet new people, try new things, and experience a heightened sense of wellness and adventure.
To learn more about travel nurse opportunities at American Traveler, call 800-884-8788 or visit http://www.americantraveler.com .
About American Traveler
From world-renowned university teaching hospitals to rural medical facilities, JCAHO certified American Traveler staffs the most prestigious hospitals in the U.S. The travel nurse company places registered nurses, physical therapists, RTs, STs, and other allied healthcare professionals in high-paying short-term travel nurse jobs, per diem, and permanent positions around the country.
###