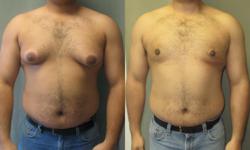 When choosing a surgeon, a picture is worth a thousand words.
New York, NY (PRWEB) August 01, 2012
Dr. Mordcai Blau announces that one of his patients will be featured on a TLC special highlighting the condition of gynecomastia and male breast reduction surgery. Dr. Blau's New York practice is dedicated almost exclusively to gynecomastia correction.
TLC recently produced an educational and informative documentary about male breast reduction surgery featuring a 22-year old male from New York City who suffered from severe gynecomastia, or enlarged male breasts. TLC chose to feature Gynecomastia because it is a topic which has been receiving increasing attention in recent years. Research has shown that men afflicted with gynecomastia typically suffer from low self-esteem and find that their enlarged breasts interfere with their daily and social lives. Patients who are 11-16 years old are even more prone to bullying and diminished academic performance. The social strain from feeling embarrassed affects their socio-emotional development and leaves many patients with poor self-image and doubt about their masculinity.
These reasons are precisely why the patient featured on the show sought out help from Dr. Mordcai Blau, a male breast reduction specialist based in White Plains, NY, who performs over 250 gynecomastia-related surgeries each year altogether he has done more than 6,000 with a recurrence rate of 0% thus far. Dr. Blau was featured in "Plastic Surgery News", which is the most prestigious monthly journal for board-certified plastic surgeons published by the American Society of Plastic Surgery (ASPS) on the subject of male breast reduction. Plastic Surgery Practice, another well-respected publication targeted at plastic surgeons, featured Dr. Blau as an expert on the gynecomastia.
The producer on the show selected this particular patient because of his age, the severity of his gynecomastia and the experience and notoriety of his male breast reduction surgeon. When choosing a surgeon, a picture is worth a thousand words. In gynecomastia surgery, as in plastic surgery in general, looking at a surgeon's before and after pictures on their website can help prospective patients make an informed decision. TLC hopes that viewers of this show will gain a deeper understanding for those who suffer from a severe form of gynecomastia and the psychological implications that accompany it. Until a few years ago, this subject was taboo for many men, but the increased awareness of the topic has empowered many men to identify their condition and perhaps educate themselves about the treatment for gynecomastia, including options for male breast reduction.