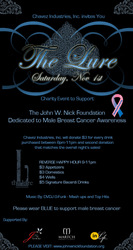 Timeshare Rescue, Chavez Industries and The Lure Lounge plan to team up in the future to plan other community minded events
Denver (PRWEB) October 28, 2008
Timeshare Rescue, a national organization that acquires timeshares from dissatisfied timeshare owners announced it would be hosting a benefit for Male Breast Cancer on November 1, 2008 at The Lure Lounge on Blake Street. The event starts at 8:00 PM and ends at 11:00 PM.
The charity event was spawned by the untimely death of the grandfather of a Timeshare Rescue employee from complications surrounding Male Breast Cancer and the noticeable void in the media covering this very serious cancer.
According to the John W Nick Foundation male breast cancer is typically thought of as a woman's affliction; however the mortality rate in men (the percentage of those diagnosed vs. the number of related deaths) is higher due to the fact that the disease often goes undetected until the cancer is in its advanced stage.
Andy Chamberlain, a spokesman for Timeshare Rescue was quoted as saying "we chose the day after Breast Cancer Awareness Month intentionally to demonstrate that folks tend to not pay attention to Male Breast Cancer until it's too late." Mr. Chamberlain continued by stating that co-hosts Timeshare Rescue and Chavez Industries expect several hundred attendees and thousands of dollars raised. Chavez Industries insiders are rumored to be planning a matching donation to that made by Timeshare Rescue at the event.
"Timeshare Rescue, Chavez Industries and The Lure Lounge plan to team up in the future to plan other community minded events" said Kristopher Chavez of Chavez Industries.
For more information on timeshare rescue please contact Timeshare Rescue at 800-743-1391 or visit http://www.timesharerescue.com.
###