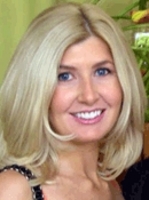 I had a great time with ABC. Their staff was wonderful, and I was with them so much I truly forgot the camera was rolling. When they visited my home, my children had a great time, and kept wanted to see themselves on camera.
Cockeysville, MD (PRWEB) June 25, 2008
Dr. Karen Elizabeth Boyle is a featured physician in the medical documentary "Hopkins," set to air this Thursday, June 26th, at 10 p.m. EST on the ABC network. As The Johns Hopkins Hospital's first female urologic surgery attending, she caught the eye of the ABC producers with her unique niche practice of fertility, sexuality and genital aesthetics. Dr. Boyle specializes in microsurgical vasectomy reversal, labiaplasty, vaginal rejuvenation and male infertility. You can learn more about her practice at http://www.drkarenboyle.com.
Speaking openly and honestly with her patients about the most intimate and personal issues possible, Dr. Boyle, who at the time of filming was in her third trimester of pregnancy, embraced the experience.
"It was a very special opportunity for my patients and myself to share with the camera some of the most private moments a person can experience. I continue to be amazed and impressed by my patients' ability to share their story and help others who face similar concerns of male infertility, male and female sexual dysfunction and concerns regarding genital aesthetics."
"Unlike some of the other stories on the Hopkins documentary, my patients don't deal with life and death issues. But the issues they do deal with are some of the most challenging a person can face. Being able to share in a couple's journey to conceive a child, for instance, is one of the most rewarding things I do."
"I had a great time with ABC. Their staff was wonderful, and I was with them so much I truly forgot the camera was rolling. When they visited my home, my children had a great time, and kept wanted to see themselves on camera."
Dr. Boyle has a 2 ½ year old daughter, a 1 ½ year old daughter and now an 8 month old son. Balancing family and work is a priority to the 35-year-old mother, wife and surgeon, who openly admits that it is the most difficult thing she has ever done. "Being a mommy and wife are the most important things in my life, and it is a constant challenge to balance a busy surgical practice and home. Like most working parents, I don't have all of the answers. I am blessed with the most supportive husband and best friend I could ask for, and I just do the very best I can each and every day."
Dr. Boyle graduated from Harvard with Honors and then attended Albany Medical College, where she graduated again with Honors and Distinction in Research. She completed her general surgery and urological surgery training at The Johns Hopkins Hospital, The Brady Urological Institute.
Dr. Boyle then completed the prestigious fellowship in reproductive medicine and microsurgery at Baylor College of Medicine, and then returned to The Johns Hopkins Hospital where she served as Assistant Professor of Urology, Obstetrics and Gynecology and Director of Reproductive Medicine and Surgery. While at Hopkins, Dr. Boyle was active in research and teaching, and established and grew a dominant practice of male infertility, sexuality and aesthetics. She is Board Certified in Urology and has advanced training in aesthetic procedures of the genitalia and associated areas.
She has recently partnered with the nation's leading group of visionary urologists at Chesapeake Urology Associates as their Director of Reproductive Medicine & Surgery, Sexuality and Aesthetics. A recognized expert in male infertility, Dr. Boyle was named the Director of Male Infertility at world renowned Shady Grove Fertility Reproductive Science Center.
Dr. Boyle regularly lectures on male infertility, vasectomy reversal, and sexuality. She is extensively published in her areas of expertise and is actively involved in The American Urologic Association, The American Society of Reproductive Medicine, The Society of Male Reproduction and Urology, The Society for the Study of Male Reproduction, The Sexual Medicine Society of North America, The International Society for The Study of Women's Sexual Health and The American Academy of Cosmetic Surgery. Her contributions to the field of fertility, microsurgery and sexual health have been featured in many media outlets such as Men's Health, Women's Health, Fertility Today, Radius, Playboy, ABC television documentary Hopkins, and ABC News.
If you would like more information on Dr. Boyle, or you would like to schedule an interview, please contact phone 443-286-2721 and email kboyle@cua.md You may also visit her website at http://www.drkarenboyle.com.
Contact: Karen Elizabeth Boyle, M.D.
Cell: 443-286-2721
Email: kboyle @ cua.md
# # #