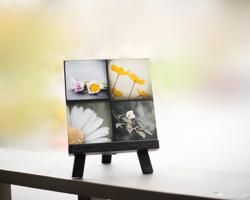 These photos are a fresh, graphic take on everyone's favorite daisies and poppies; they're florals with a modern twist.
Roseville, CA (PRWEB) February 16, 2013
Maleah Torney Photography (http://www.maleahtorney.com), in association with The Artisan Group, will showcase its "Modern Florals Photo Set" at GBK's Luxury Gift Lounge in Honor of the 2013 Academy Award Nominees & Presenters. A version of the set printed on metallic paper will also be included in celebrity swag bags. The GBK Gift Lounge takes place February 22-23, 2013 in Beverly Hills, California.
The Modern Florals Photo Set is part of Maleah Torney Photography's "Urban Collection." Images in the set include "Hello Sunshine," "Vision in White," "Three's Company Squared" and "Daisy Day Dreams." All images are ready for framing and are beautifully packaged in natural colored, recycled, handmade paper folders tied with orange and green ribbons.
"These photos are a fresh, graphic take on everyone's favorite daisies and poppies," remarked Maleah Torney, photographer/owner, Maleah Torney Photography. "I consider them as florals with a modern twist. The color scheme is neutral with a pop of color and will work in almost any décor."
Watch a Maleah Torney Photography video.
While preparing so many photo sets for the Oscars event was hard work, the project went smoothly. When it came time to package the 100 gifts, Torney was assisted by her eleven year old daughter. "It was a very special time with her," smiled Torney. "She loves to help with my photography business when she can and I enjoy showing her the ropes."
Maleah Torney Photography's photographs and photo notecards are a popular choice for celebrity gift bags. Most recently she participated in the Official Gift Lounge for the 46th Annual CMA Awards, where her photograph "The Barn" was included in Press Bags. Prior to that, matted prints of the photograph "Ocean Dreams" were included in celebrity swag bags at GBK's Luxury Gift Lounge for the 2012 Primetime Emmys.
Hugh Bonneville, Stephanie Drapeau, Nia Peeples, Kaley Couco, Jenny McCarthy and Paula Abdul are among the celebrities who have received Torney's photography. Her imagery can also be seen in the 2011 thriller, "The Roommate" and it is the focus of a new, nationally distributed 2013 calendar.
To learn more about Maleah Torney Fine Art Photography and its participation in GBK's Luxury Gift Lounge for the 2013 Academy Awards and other celebrity gifting initiatives, visit the website (maleahtorney.com), like Maleah Torney Fine Art Photography on Facebook (facebook.com/maleahtorney) and follow the company on Twitter (@maleahtorney) and Pinterest (pinterest.com/maleahtorney). For press inquiries about The Artisan Group, visit theartisangroup.org.
About Maleah Torney Photography
Whether capturing intimate scenes of nature, old buildings or expansive landscapes, Maleah Torney's photo imagery (http://www.maleahtorney.com) evokes memories of places seen, people loved, trips taken. Urban dwellers favor Maleah's work when they seek photographic art with a softly modern edge. Moms love her imagery for decorating baby nurseries. Maleah has been interpreting the world around her through the lens of a camera since childhood and made her passion a profession in 2008. Maleah's photographs are collected from New York to Norway and she is frequently commissioned to create custom work.
About The Artisan Group
The Artisan Group (http://www.theartisangroup.org) is an elite art promotions group representing talented small-business artisans at the best celebrity gift lounges. The organization provides a collective sampling of handcrafted products to celebrities and members of the press at top luxury gift lounges such as those leading up to The Academy Awards, The Golden Globes, The MTV Movie Awards and The Primetime Emmys. Membership in The Artisan Group is juried and by invitation-only. The Artisan Group also offers its members guidance in the areas of sales, marketing, social media and public relations.
The Artisan Group is in no way associated with MTV, The Academy of Motion Picture Arts and Sciences, The Hollywood Foreign Press Association or The Academy of Television Arts and Sciences.