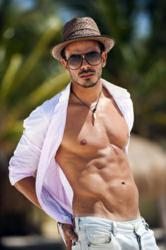 (PRWEB) January 11, 2013
5 Star Companionship offers more than just male escorts, they offer a matchmaking service for women in need of a male companion! Dates could range from a weekend vacation they want to be accompanied on or to something as simple as a date to a work event or even just a romantic dinner date and then a night out on the town.
The demand for Straight Male Escorts For Women has been on the rise the last 10 years, however the last 2-3 years has really increased in demand as more people are warming up to the idea of a male escort for women. These days there are reality shows about male escorts however 5 Star differs from what you see on TV in the sense that 5 Star Companionship offers a true matchmaking experience for women.
There is currently no other straight male escort agency that offers matchmaking with smart, sexy and serious straight males. Dan, the 32 year old owner and operator of 5 Star Companionship says, "We represent a variety of men all the way from nerds to hunks simply because every women has a different request that they want as every women is different. Our job is to listen very close to their desires and offer them the closest match to what they want. After that it's up to them to accept or decline although I would like to mention that we are able to meet at least 70% of the inquiries we get from women."
When a woman goes to 5StarCompanionship.com she can hit the contact page and fill out a questionnaire and select exactly the type of male she is looking for. Within 2 business days she will receive a response with matches the company has for her. At that point she can call the company to book her reservation or even ask any questions she might have. 5 Star Companionship has a hotline for women that allows them to call and ask any questions or describe who would be a perfect match for her, 877-267-6253. Please note, this hotline is for only women.
5StarCompanionship was born into the industry in 2012 with the goal of helping successful, wealthy & busy women find the perfect male companion to spend time with through an effective matchmaking service. 5 Star is 100% discrete and confidential to protect even the up most prestigious or celebrity type women.