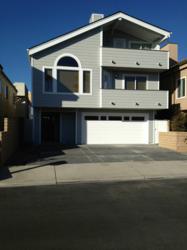 Thousand Oaks, CA (PRWEB) May 28, 2013
Dave Lane Construction believes that remodeling a home's exterior is just as important as remodeling the interior.
"The exterior sets the tone for a home's interior look and feel," says Dave Lane, owner of Dave Lane Construction. "First impressions really do count when it comes to the long term value of a house, especially when it comes time to sell the property. When remodeling the exterior of a home, it's important to take into consideration the surrounding neighborhood and environment as well as a homeowner's personal style and taste."
Even small changes can have a huge impact. For example, adding another color to the exterior palette or adding texture such as stone can make a home feel more expressive and inviting. Homeowners that haven't remodeled in a long time will be delighted to discover a number of new, sustainable, energy efficient products on the market.
Dave Lane Construction recently completed work on a home in the Channel Islands, which lies on California's Gold Coast between the seaside cities of Santa Barbara and Malibu. The home's exterior was remodeled to reflect the serene surroundings and utilized materials that are resistant to wear and tear from harsh beach elements.
"We used Hardie Board siding at the front of the home, which is well known for its durability, low maintenance, and resistance to water damage, rotting, cracking, and fire," explains Dave. "New epoxy colored stucco color coat was used for the side and rear of the home. We also added a slump stone and precision block wall to replace old wood fencing, a new concrete driveway and sidewalks, durable vinyl fencing on a back deck, vinyl gates for extra security, a tiled entry, and new rain gutters and downspouts."
In addition, the balcony and rear deck were waterproofed and epoxy coating was applied to the garage floor. To add color and vibrancy, as well as protect the exterior of the home, Dave Lane Construction also primed and painted the entire home. The homeowners were thrilled with the thoughtful detailing of the home's exterior that Dave Lane Construction was able to provide.
For more information about Dave Lane Construction please call, (805) 493-9229, or check out their website http://www.davelaneconstruction.com.
About Dave Lane Construction
Dave Lane Construction has been serving the Southern California area for over 30 years. They have been a member of the Better Business Bureau since 1997 with an A+ rating. Dave Lane Construction specializes in custom home designs and provides guaranteed satisfaction. They are proud to offer customers all the services needed to keep and improve the beauty and value of their home. Some areas of expertise include custom home building, kitchen and bathroom renovations, room additions, window and door installation, and custom decks and patios. They serve Thousand Oaks, Calabasas, Malibu, Ventura, Los Angeles, and the surrounding area.